July Newsletter: How to Create Motion Pans
Where did June go? It zipped by and I'm a little glad it did, because it was a cold month with lots of bugs and other than family portraits, it was a low volume shooting month for me. I did manage to get out and make some pictures that I like, but overall it was hard to be in the woods. I heard that with all the rain, three times the normal numbers of mosquitoes hatched. I'd believe it, because I felt like a caribou on the arctic tundra running to the nearest pond just to avoid the swarms of blood sucking monsters anytime that I went into the woods. I'm so glad that the dragonflies are out now. They eat the mosquitoes. We just need more of them to hatch.
Vote for my Entry in Canoe & Kayak Magazine's People's Choice Photography Award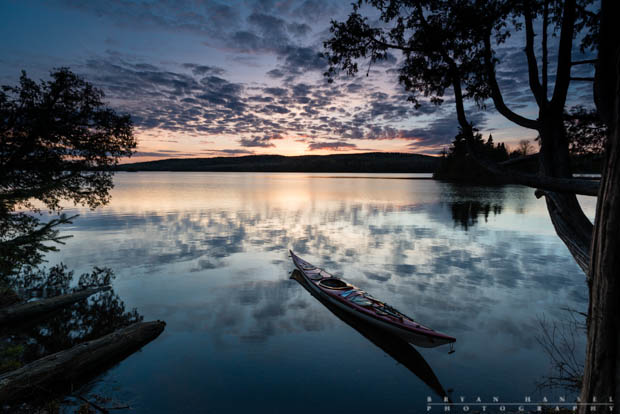 I need your help winning Canoe & Kayak Magazine's People's Choice Photography Contest. To help me win:
1. Go to http://bit.ly/13Haa8F. This is the Facebook contest page.
2. Click "Vote."
Thanks!
Please, vote today. I need all the votes by 7/13/13.
Please, share the above link with all your Facebook friends and social media peeps!
How to Create Motion Pans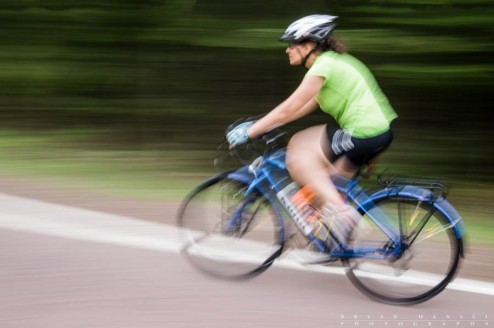 With summer finally kicking in, it was time to break out the bikes (and bikes are the only way to enjoy the woods right now, because they're faster than mosquitoes!). When you're out biking, it's fun to create a motion blur picture where the background looks blurred, but the rider looks like she's in focus. To do this, you need an exposure in the 1/8th of a second to 1/30th of a second range which will blur the background as you pan. Here's how to do this:
Set your ISO at the base level, i.e. ISO 100.
Put your camera into aperture priority and close down your aperture until the shutter speed changes to somewhere between 1/8 and 1/30. Closing down an aperture means making the number bigger. For example, using f/11 instead of f/2.8. If it's bright out, you may have to add an ND filter to your lens.
Turn on continuous autofocus and move the autofocus point to where you want to place the rider.
Change to continuous shutter release mode, i.e. the camera will take a picture over and over while you hold the shutter release button down.
Have the rider start riding.
As she approaches, pan with your with the autofocus active.
Press and hold the shutter down as she passes by. This will take multiple pictures. Make sure to continue panning as the rider passes.
Check the images to see if the rider looks in focus and the background is blurred enough. If you want more blur, slow the shutter speed by closing down the aperture further.
Note: it's nice to have space in front of the rider, so that she has someplace to ride into in your photo.
Upcoming Photography Workshops
Still have a few spaces in my workshops this year.
Select Photos from June
The following are select photos from the month of June. If you get this via email and can't see the thumbnails, click on over to my website to see the full-sized images. Click the thumbnail to see the full-sized image.