June Newsletter: Rear Button Focus
This May earned a new slogan, "May's cold weather and cold showers bring June flowers." What a weird month in the northland. It was far below average in temperatures and had lots of gray skies. But, at times those skies cleared and the night photography was great, because the Milky Way's galactic core made an appearance. Towards the end of the month, as always happens in May, the traffic in Grand Marais started to pick up. When walking across Highway 61, you had to start looking both ways again. But, to be honest, I'm ready for warm weather. Come on June, please, give us some warmth.
Rear Button Focus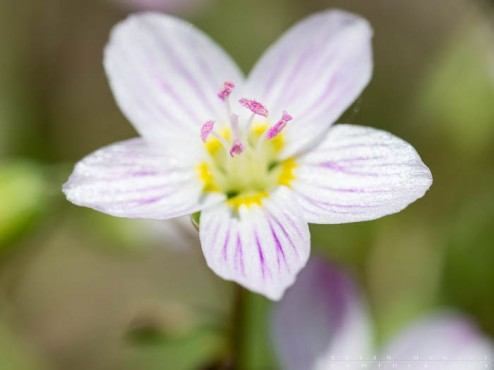 Most photographers shoot their cameras with the shutter release button set to control focus in addition to release the shutter. When you push the shutter release button down halfway, it focuses. The advantage is that with the focus and release on the same button, it's easy to make sure that the image is in focus. The downside is that if you need to lock focus for multiple exposures of the same landscape, you have to turn the focus off. There's another way to set up focus on many DSLRs, which makes photographing landscapes easier.
That other way is to set up a rear button to control focus and to remove the focus control from the shutter release button. When you set up the camera this way, your right hand thumb pushes the rear focus button and your index finger pushes the shutter release button. The main advantage is that you can set focus and it stays locked in place until you push the rear button again.
Different cameras have different methods to set this up, but it usually breaks down into two styles depending on the level of camera. Higher-end cameras usually have a separate button for rear button focus. And lower-end cameras usually have a setting that changes the auto-exposure lock button (AE-L) to a rear button focus button. Check your manual to see how to do this.  With the higher-end cameras, you have to set the camera up to only focus with the rear focus button (AF-ON). Check your manual on how to do this.
Using this in the field takes some getting used to, but here's how I use it:
Set up my composition and lock my camera to a tripod.

Figure out where I'm going to focus based on either hyperfocal distance or trying to get the closest or most important part of the photo in focus, i.e. the flower petals, etc…
Move my focus point to the place.
Push the AF-ON (rear focus button) to gain focus.
Shoot the picture with the shutter release button or a shutter release cord.
Check the exposure, composition on the LCD screen.
Adjust anything that I need to adjust.
Reshoot the picture. Because focus is set, it will be focused in exactly the same place.
This method is so much faster than refocusing or turning focus on and off with a switch. I highly recommend that you try it for a week or two. I think you'll like it.
Upcoming Photography Workshops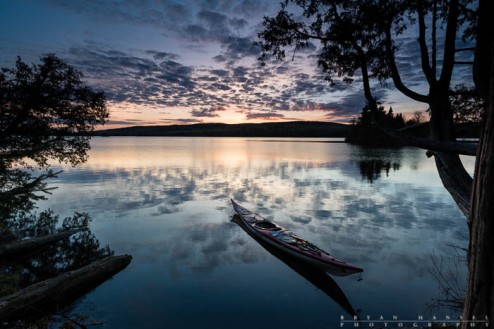 I also have one space left on my Great Smoky Mountain Fall workshop. This is by special arrangement, so email me at bryan@bryanhansel.com if you're interested.
2014 Photography Workshops
These are the dates for my 2014 photography workshops. The Winter Workshop and Spring Workshops fill up quickly, and I can add a second date for each of those if I get a big enough waiting list. Registration for these workshop will open later in the year and I'll announce it in a newsletter the day I open registration for the winter and spring workshops to give everyone an equal chance. It'll be before Christmas and the winter workshop seems to be a popular Christmas gift.
February 7 to 9, 2014 — Lake Superior Winter Photography Workshop
April 18 to 20, 2014 — Spring Waterfall Photography Workshop
June 27 to 29, 2014 — Lake Superior Kayak Photography Workshop
September 24 to 28, 2014 – North Shore Fall Photography Workshop  – 5 day
October 3 to 5, 2014 – Fall Photography Workshop – 2.5 days <- Can be reserved by a photography club.
October 17 to 19, 2014 — Great Smoky Mountain National Park Fall Photography Workshop
November 7 to 9, 2014 — Gales of November Photography Workshop
Great Products to Try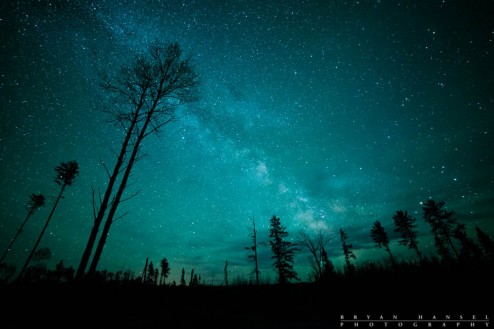 Over the last few months I've been hearing lots of goodness about the Rokinon 14mm F2.8  Ultra Wide Angle Lens (Amazon.com link) for night photography. The lens that I had been using for night photography showed coma in the corners, which makes the stars look like butterflies in the corners when shot wide open. I heard that this inexpensive lens showed very little coma even at f/2.8, so I picked it up.
I've had it out a few times and while I think it's okay for shooting during the day (manual focus only), it really excels at night. It's super sharp, it's super wide, and infinity focus is where it says it is. All three combined with the lack of coma means tack sharp night images. Because it's so wide, even at f/2.8 the depth of field is enough to keep everything in focus throughout the scene. If you set it right, everything from 4 feet from the camera to infinity will be in focus even at f/2.8.
This is an amazing lens. If you do any night photography, you should pick it up.
Select Images from May
May was a low volume month for me, but I ended up with the following photos that I really like. I hope you do, too.
Click the thumbnail to see the image larger. Can't see the images, click the link below to go to my website where you can see the images and purchase them if you like.