August Newsletter: Slow Down, Do Something New
Wow! What a busy month (and weirdly cold). July has been my busiest yet. My kayak guiding company, North Shore Expeditions was busy, I did lots of portraits and wrote several magazine articles. There were days this month that I worked 20 hours straight just to get everything done. This summer in the northland has been cold, which meant lots of flowers, but it also feels like an early fall this year. I've already noticed signs of fall. Some of the distressed trees are starting to get the light-green-about-to-turn-in-a-week-or-so color and I've seen some yellow leaves on trees. Did I mention lots of rain? In July, I ran my first Kayak Photography Workshop, and it went well. More on that below. Overall, the month went by so quickly that I don't know where it went.
Slow Down, Do Something New with Your Photography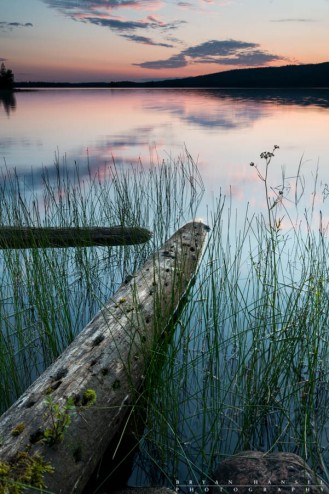 Last month, I read an article about how to slow down time. The gist was that if you experience something new enough that it makes you process more information, then that slows down time. I thought about it and tried to figure out how to apply it to photography to see if I could slow down the enjoyable experience of photographing nature. The more I thought about it, the more I figured out that when I'm out photographing something, time already seems to slow down. Just by going to new places and photographing new scenes, I realized that I'm constantly experiencing something that makes me process more information and thus slows down time for me. The article says that you should do the following to make time go by like it did when you were a kid:
Keep learning.
Visit new places.
Meet new people.
Try new activities.
Be spontaneous.
So, how can we apply this to photography everyday. I'm very deliberate in my photography. I know the picture that I want to get before I leave my home and then I go get it — assuming the conditions are right. If you're like me, just grabbing a camera and heading out to photograph off-the-cuff could mean that time will slow down. To meet new people, you could do a 100 Strangers Project, where you go out and photograph 100 strangers. Visiting new places is easy — even though I've lived in and explored Cook County and the north shore of Lake Superior for years, I'm still finding new places to photograph.  I'm sure there are many new places you could photograph near you. You could easily try a new type of photography or dive into something that you dabbled in, but haven't tried very often. For me, it's all about the season. Each season, I tend to do a different type of photography. For example, in spring, I shoot waterfalls using different techniques than the Lake Superior scenics I shoot in winter. In June, I shoot macro. In summer, I shoot kayaks and the night sky. In the fall, it changes to fall color. Everything uses a new technique and feels like a new activity (or you could come and try kayaking with me). Recently, I've been learning how to use a tilt-shift lens, which is an entirely new challenge, and a new activity. Last, keep learning. If you're into photography and you haven't taken one of my photography workshops, it's a good way to challenge yourself and learn new techniques.
This week, you should challenge yourself to try one of the items on the above list and feel how it makes the world seem to slow down around you. I guarantee it's worth it.
Kayak Photography Workshop Recap
I hosted my first kayak photography workshop in July, and had a bunch of great photographers join me. Some even flew in from Washington! Thanks, everyone! It was a blast having you. It was a little more advanced than some of my other workshops, so it was great having repeats and serious shooters on the trip — that let me spend more time with the learners. Here are a few pictures that I snagged when we were on the water.
Upcoming Workshop
This is it for the year. I hope you can come to one.
Please, note: I'm taking names for people interested in doing the Winter Photography Workshop. It fills up quickly, so if you're interested, drop me a line at bryan@bryanhansel.com and I'll put you on a list that will allow you to register before I make it public.
Pictures from July
Here are a few pictures that I shot in July.