January Newsletter: What to Wear for Winter Photography
It's now solidly winter in the northland, which is one of my favorite times to photograph the north shore. The days are short, so shooting both the sunrise and the sunset is easy. The sun rises and sets over Lake Superior each day, and the ice on the shore changes daily which refreshes the look. While we haven't had as much snow as I'd like to have, there's enough to cover the ground, and near shore it's just enough to cover the ice — gotta be careful out there. Overall, the start to winter has been pretty mild. It hasn't been that cold with only a few days dropping below 0. The nights have been really cloudy though, so I haven't been out shooting much. On a personal note, I was under the weather for about two weeks in December, so I didn't get to shoot as much as I like. I'm better now!
Happy New Year!
What to Wear for Winter Photography
In winter, I often get asked what to wear for winter photography. While I'm not going to cover the basic concepts of layering clothing (base layer, insulation layers and shells), I'll cover the two most confusing and troublesome parts of what I wear for winter photography: gloves and footwear.
Winter Gloves for Photography
I like to keep my glove system as simple as possible for winter photography, but I also like to have warm hands. The key during the winter is to keep your hands covered at all times, especially when touching the cold metal of your camera, lenses and tripods. To that end, I wear:
Liner Gloves: Thin liner gloves protect your hands from the cold metal and also help to keep your hands warm. I use whatever Joyne's has in town, but Amazon stocks a bunch. I make sure to keep mine as thin as possible, so that they fit under my other gloves. I don't recommend silk liners, because I don't find them as warm or durable as wool or synthetic liners. After my hands adjust to the winter, I find that I can wear these gloves down to about 20 to 15 degree Fahrenheit as long as the wind is light. If you use a smartphone, you may want to buy a pair that allows you to use the touch screen. Mine don't, so I have to wet my finger with my tongue to get it to work with the screen.
The North Face windstopper fleece gloves: I wear these over my liner gloves when not directly accessing the buttons on my camera or when just spinning dials. These are really warm and durable. I can wear these and my liners down to around zero Fahrenheit without my hands getting too cold. I may now and then blow on my hands or put them into my pockets to warm them up, but for the most part these have me covered, especially when on the move.
Outdoor Research Meteor Mitts: I have an old version of OR gloves that I got from a pro snowboarder in '97 (I traded him a six pack of beer!). I've used my OR gloves for ice climbing, mountaineering and skiing since then, and while they look beat up (and have a patched hole or two), they are still going strong and are really warm. Outdoor Research makes the best gear. When the temps drop below 0 Fahrenheit, these are what I wear over my liners. I like the Meteor Mitts because the the liner comes up to help in drying and the liner's top folds back to expose your fingers. The Mt. Baker mitts are another good option.
Winter Footwear for Photography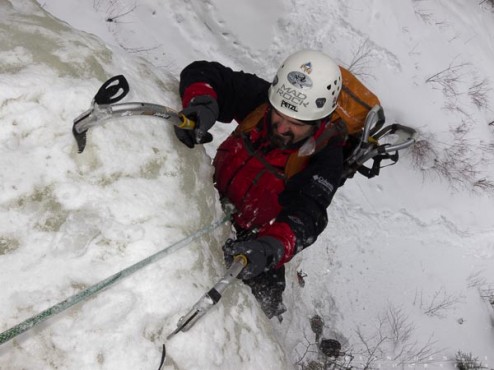 I like toasty feet when I'm standing around waiting for the sun to rise, which is why I wear insulated leather mountaineering boots, but any sturdy insulated boot will work. Make sure that you can hike in them and you don't want them too bulky or you won't be able to fit on a traction device. That's why I like mountaineering boots, they're not too bulky, because they're designed for ice climbing, a sport where you need to have nimble boots. I also like mountaineering boots because they work with crampons. Whatever boot you buy, I recommend getting a traction device for it. Here are my picks:
Yaktrax Pro Traction Cleats for Snow and Ice: These work with almost any type of hard-soled boot. Make sure to get the pro version which has a strap over the top. Versions or imitations without the strap come loose and fall off often. During my winter workshops, we usually lose at least one off-brand during the weekend.
K10 Hiking Crampon by Kahtoola: These give you more grip than Yaktrax, and work well with any hard-soled boots. The points really stick into the ice that forms along Lake Superior's shoreline or on the rivers around here. They lack front points, which means they don't work for climbing steep ice, but they also snag less on your pants.
Mountaineering crampons: Overkill for winter photography, but if you own them, you can use them. The key is to walk with your feet wider than you usually do, because the front points will snag your pants if you don't. I had a friend who tripped in fresh snow and ripped the inside leg of a brand new pair of Gore-Tex pants from the knee down when his front points snagged the fabric. We duct taped them and went ice climbing, but it was an expensive outing for him. I'd suggest the Kahtoola or Yaktrax Pros over a pair of mountaineering crampons if you don't have practice using them.
Lake Superior Photography Workshops for 2013
Join me in 2013 for an information filled Lake Superior photography workshop. My workshops are based out of Grand Marais, Minnesota, and in addition to teaching you about photography, I take you to my favorite places on the north shore. When you take a workshop with me, you'll go home with the skills to make great photos on your own as well as great photos from the north shore.
Topics Covered
Exposure: Getting the right exposure using histograms, aperture priority and exposure compensation.
Composition: Making an eye-catching photo through the use of creative composition techniques.
Focus: How to achieve focus via great depth of field and a simplified hyperfocal distance technique.
Filters: How to use the best filters for outdoor photography. Filters covered include split ND grads, NDs and polarizers.
Processing: An introduction on how to use Adobe Lightroom to process your images.
Photography Workshops Dates
Photos from December
Here is a selection of photos from December 2012. For not being able to shoot for a couple of weeks, I did alright.