December Newsletter: Previsualization in Photography
With November come and gone, we northlanders have found ourselves in winter. In fact, I can tell you exactly the day it happened. Winter happened the day after Thanksgiving. On Thanksgiving, we took our visiting family on a mild fall hike up to Pincushion Mountain just up the Gunflint Trail from Grand Marais, and then the next day, I was cross country skiing around my backyard.  While I can just remember the beginning of the month, it does seem to have been eventful. I shot several portrait sessions, taught a one-on-one workshop and ran my Gales of November Photography Workshop in conditions that produced 14-foot waves. I got up and went to the Lake Superior shoreline for a majority of the sunrises, shots stars a couple of nights and generally enjoyed the slow time.
November is a weird month in the northland. It's often overcast and gray. It's often muddy or cold. The birch, maple and aspen start to take on a brown glow, the grasses turn that yellow-brown of late fall, and even the pines, fur, spruce and cedar get a touch of the brown. The only color we see other than brown is white when it snows, or the sunrise and sunsets over Lake Superior. This is the time of year when our Lake Superior shoreline states to shine, because ice starts to build up creating an entirely different look than the rest of the year, but it's not enough ice to hide the basalt yet.
The best part about November is that the sun rises and sets over Lake Superior for the first time since spring.
This is a long newsletter, so hang tight!
If you enjoy the newsletter, please, forward it to your friends!
Previsualization in Photography
At my Gales of November workshop, I was asked about previsualization, which is the art of seeing a photo before making a photo. Before I write about how I do it, I'm going to write about a common photography experience that I know I've experienced. I have a vacation planned, bought my plane tickets (or drove), booked my hotel (or campsites), got maps, read about interesting areas and glanced at some photos. When I get there, I head to an area I read about and start to photograph it in a haphazard manner. At the end of the day, I may have a few keepers, but nothing to write home about. Why? Because I didn't take the time before the trip to previsualize my desired results.
Usually for me, previsualization is easy, because I shoot lots of similar pictures. I know most of my seascape pictures are going to involve Lake Superior, an interesting foreground, clouds, the sunrise or sunset, a simple composition with simple elements and a longish exposure to blur the water. Knowing what I'm after is a type of previsualization and helps me go to the new shoreline, spend 30 minutes to find something that I like and photograph it in a way that makes something I know I'm going to enjoy. Put me on any shoreline in the world, and I'll probably end up with a picture that I like. But, put me in the mountains without letting me plan my photos, and I might not come home with much of anything.
How do you avoid the later? Do the former; know what you're going to shoot. Before heading to a location, look at your pictures of similar locations and pictures of others from similar locations (or where you're going). Figure out which pictures you like and break down the various elements in those pictures until you have a list of what makes a good photo of the area. Once you know that, you can take those elements and start to imagine different types of pictures. Then when you're there, you can look for those types of pictures and shoot them. Or you can look for some of the elements from the photos and once you find them, figure out how to use them to make a good photo. In my workshops, one of the reasons I show a slideshow is to help the students see the locations that we'll be heading to get ideas before they get there. That's a form of previsualization.
For example, I haven't shot Hollow Rock in Grand Portage before, but, lately, I've had the desire to go there and shoot. I've paddled past it before by kayak, stopped and looked. I also contacted someone who shoots there often and I've looked at his photos and photos that others took of Hollow Rock. I've come up with a list of elements that I like: waves, steam, sunrise, clouds, the sun coming through Hollow Rock and either a tightly framed shot or one that involves a diagonal shore, like the ones I make of the local tombolo island that I shoot often. Will I find all these elements when I visit Hollow Rock? I don't know, but I do know that December gives me the best chance to get the sun shining through the hole.
So, before you head out next time, research the area where you're heading, look at photos and previsualize by thinking about what you might encounter and what you might photograph.
Workshops and Such
You can still pick up my 2013 Northern Landscapes Calendar here.
I'm redoing my online print store. It's taking longer than I thought because I have to add each photo one at a time, but it will be easier to shop for the image you want after I finish. If you get an order in within the next couple of days, I can get it to you by Christmas.
I have space in my Lake Superior Winter Photography Workshop. It's February 8 to 10th. By popular demand, I added a Friday afternoon session to the workshop at no extra cost. The workshop is $250 per person and I'm able to keep the price that low, because of you helping to spread the word as my main way of advertising. I know it sounds harsh to photograph in winter, but IMHO it's the best season to photograph Lake Superior. The combination between sea smoke, open water, icy shorelines and pack ice create give us unlimited subjects to photograph. The deposit is $100. This one makes a great Christmas gift. Register now by clicking here.
Interesting E-Books

For a while, I've been a fan of Craft and Vision e-books. They put out inexpensive e-books focusing on one specific photography topic. Usually, the e-books run $5. I tend to get all their e-books, but find that sometimes, it's a bit hit and miss, but there's often something to learn in even the duds. Lately, Craft and Vision has been putting out a couple of more expensive e-books that are significantly more detailed and high quality. Two recent ones that I enjoyed and though that I'd share are:
PHOTOGRAPH: ISSUE ONE
This is the first issue of a new digital magazine, and it packs a punch — I actually found it much more enjoyable than the most recent issue of Outdoor Photography Magazine and much more useful. Basically the magazine consists of portfolios and how-to articles. In the first issue, they scored a portfolio from Art Wolfe, one of the photographers that I've always admired. There's a short interview with him after his portfolio. Bruce Percy's Iceland portfolio will make you want to go to Iceland. And Nate Parker's portfolio would feel very home with the sort-of uniform style that you see from Minnesotan north shore photographers, except that it's in Maine.
For the how-to articles, I really enjoyed an article called Creative Composition. It wasn't anything mind-blowing, but it was a good overview of the writer's process. The article on shooting silhouettes was solid and full of great shots. For me, the standout article was one on color management called The Art of the Print. The author explains the process in detail and in common English instead of the typical computer-geek speak. I though it was worth the $8 alone. The essays in the magazine are sub-par and definitely not up to the level that I'd expect in a magazine; they seem more blog-like. But, the how-to and portfolios make up for that.
If you like to read on a color Kindle, iPad or other e-reader (I use my laptop for these), then I think this is a good magazine to check out. If the following issues are as good as or better than the first issue, then I think this is going to be a winner worth subscribing to.
Lightroom 4 Unmasked
I love Adobe Photoshop Lightroom 4
; it's my primary editing tool and I try to get my files to where I want them in Lightroom before I move to another program, such as Photoshop. Usually, I can do everything in Lightroom. But, the photo editing in Lightroom isn't the only thing I like about the program, because it's organization features are key to keep out from under a mountain of files. I typically add 100 new images to my landscape catalog a week. So, conservatively (not counting portraits or other commercial work), I add over 5,000 landscape images a year to my catalog. This year, I'm at about 5,200 so far with one month left to go. Lightroom allows you to keyword, tag, add descriptions, etc… to each file quickly and painlessly. It really makes finding images easy when you're looking for something specific. Those are the two items I use: editing and cataloging. There are more features; not as many as Photoshop, but enough to overwhelm a beginner to the program.
This e-book is a well-written walk-through of Lightroom as it take you through every part of the program. I learned a lot from it so far and I've been using Lightroom since version one was released. The parts that I enjoyed the most were the examples that the author calls "Cases." They really show how a feature of the program works in the real world, and that's something missing from other Lightroom books that I've read. If you're into e-books then this is worth the $20. But, you may be able to find an actual physical book for about the same price that's just as good, so it's a toss up for my recommendation. Get it if you're an e-book type of person, skip it if you're not.
Haiku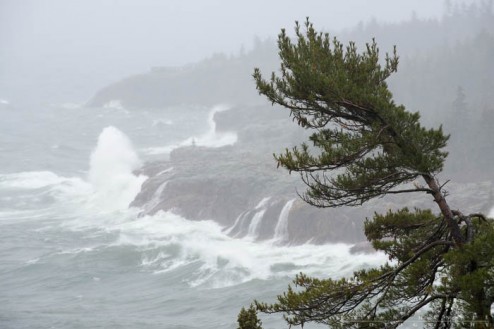 If you follow my (mostly) daily photos on Facebook (here's my Bryan Hansel Photography Facebook page), you may have noticed that I've been adding haiku to many of the posts in November. Haiku is a short poetry form generally about nature that uses two concrete images that resonate with each other to convey the poet's perception about the moment that sparked the poem. Haiku images are concrete (unlike in other types poetry), avoid the first person, are in present tense and try to invoke a season. While I've been published for haiku in a couple of magazines, including Frogpond, I generally just write haiku for myself and don't consider myself all that skilled with it — it's a really fun hobby. I find that it helps me enjoy the moment and be more aware of my surroundings. Plus, every now and then my brain just comes up with some type of realization that feels like a Deep Thought, but not that funny. Haiku allows me to record those moments that don't fit within a picture. I highly recommend giving it a try. Here are the three favorite haiku that I wrote this month:
sunrise
the ink in my haiku pen
frozen
winter
unzipping four
zippers
first ski
the weight of snow
bends the cedar
Inspirations
November seems like a time for reflections for me this year, and I've been reflecting on where I've come from, my current landscape style compared to others, where that style came from and how I need to improve and change that style to break away from the current north shore look. I think that when I was learning, I was inspired by these photographers: Galen Rowell, David Muench, John Shaw,  Art Wolfe, and Tom Till, plus my high school photographer teacher Ed Mittvalsky. In December, I'm going to spend time rereading John Shaw and Galen Rowell's books and reflecting on their work to see how I can improve my work and get back to the basics of what really excited me about outdoor photography when I was first learning. I'm not sure where it will go — if anywhere — but I thought it would be a fun exercise. Perhaps, you could try it, too. If you have inspirations and influences, feel free to leave them below in a comment or on my Facebook page.
Select November's Photos
Here's a sample of some of the photos that I shot near Grand Marais in November. Click to see them bigger.