November Newsletter: The Prime Challenge
Typically, October is a month of rest and recovery and calm in the northwoods. Grand Marais gets slow, the woods change from showy to a state of waiting for winter. It gets easy to find a seat in a restaurant and the weather is great. It wasn't a calm month for me though. I ran three workshops, two private workshops a couple of portrait seasons and drove 3000+ miles to the Smoky Mountains. The Smoky Mountains are amazing. Gatlinburg, which is the main entry town to the Smokies, is like Grand Marais on steroids, and the landscape there is intimate and impressive. The many streams remind me of the north shore and the forest there ranges from what you'd see in the BWCA to what you see in Rochester. I'm going back next fall and just to put a bug in your ear, maybe you should join me.
The Prime or Fixed Focal Length Challenge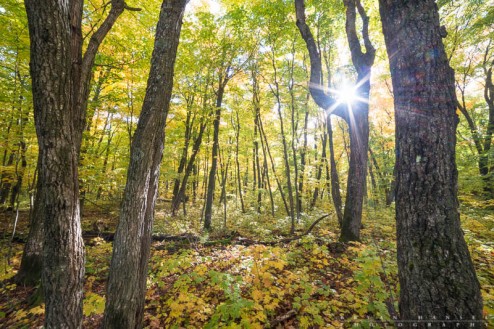 I recently sat on a panel of photographers and answered questions from a group of about 60 people. During the panel, someone posed a question about what lenses the panel used and whether or not everyone on the panel preferred primes or zooms. All of us primarily used zooms, but I mentioned that I preferred primes, because they simplify focal length selection. Even though, my primary landscape lens is now a zoom, it wasn't always that way for me. When I learned photography, I learned it on a 50mm prime lens and for many years, I owned just a beat-up Yashica with a 50mm f/2.0 manual focus lens (it's one of two film cameras that I still own). My first wide angle lens was a prime lens. I bought a Nikon 24mm f/2.8 for my FM3a (the second film camera I still own). Last winter while I was experiencing my nightmare with Nikon on my 16-35mm zoom lens repair, I used the old 24mm prime to create almost every image that I made last winter. During the summer, I borrowed a friends PC-E 24mm f/3.5 lens and shot at that focal length for several weeks. For me, my wide angle focal length is 24mm. I use it more often than any other focal length. When shooting with a zoom, I'll often set the focal length at 24mm and just leave it there, because a 24mm is how I see landscape.
What I find interesting about the way that I shoot is that I'll often set my zoom's focal length to what I want and then I compose. I use it almost like a set of prime lenses with my most often used settings at 20mm, 24mm, 28mm and 35mm. It actually surprises me how seldom I use anything in between. Even when I'm zooming through the viewfinder, I'll often stop at one of the focal lengths that I listed. If I had to, I'd be perfectly fine with a set of prime lenses that look like this: 14mm f/2.8,  24mm f/1.4, 35mm f/1.4, 105mm f/2.8, 200mm f/2.0, 300mm f/4, 1.4x teleconverter. Other than when I shoot portraits, I'd be covered for almost everything that I do for outdoor photography.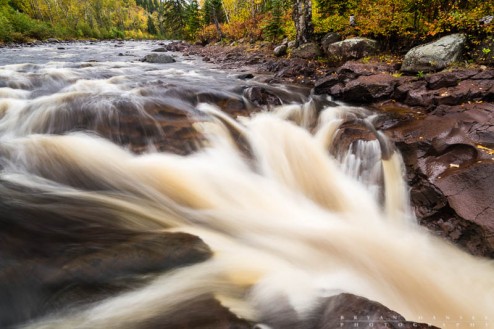 During my photography workshops, the majority of participants bring zooms and what I see more often than not is that after a field critique, the participant, instead of keeping the zoom set at the same focal length and changing tripod or body positions to recompose, just zooms in or zooms out. Sometime the behavior is so ingrained into the way they use their cameras that they don't even realize what they're doing, and when I mention it, they seem surprised that they actually did it. I think that's a bad habit that's hard to break, and it's letting the camera and lens dictate how you make your picture instead of having your vision select the focal length that's best for the photo. While there's nothing wrong with using a zoom to recompose, it does create a different look, i.e. the depth-of-field changes and as you zoom in the background starts to look like it's closer to the foreground and the entire scene begins to compress.
I think that the use of zooms actually hinders training your mind to see the way the camera does. When you pick a specific focal length and stick with the focal length, pretty soon your mind starts to see the world in that focal length — I learned wide-angle photography with a 24mm lens and that's how I see the world now. It's much easier to pick one focal length and learn it before moving on to the next. After you learn several focal lengths and your mind knows how the world looks through those lengths, you can easily walk up to a scene, come up with a vision on how you want to photograph it and then select the proper focal length to convey your vision. I don't think that there is a better way to improve, especially at wide angle photography, than to pick on wide angle prime lens and stick with it for all your wide angle pictures for an extended period of time.
Another advantage of selecting one focal length is that it forces you to zoom with your feet. If you want to zoom in, you need to take a step or two forward. If you want to zoom out, step a couple of steps backward (always look behind you before you do this, so you don't fall off a cliff). When you do this, you'll notice that while the foreground changes the relationship between the background and foreground stays relatively the same, and, in my opinion, the relationship that you establish between the foreground elements and background elements makes the difference between an amazing photo and a mediocre one. If you switch focal lengths the relationship between the background the foreground changes, i.e. when you zoom out, the background looks further away and when you zoom in, the background looks closer. By zooming, you're changing relationships established by focal lengths and not just changing the composition.
So, to sum up:
Specific focal lengths create specific relationships between the compositional elements in your photo.
Changing the focal length changes those relationships.
Unless you're deliberately changing focal lengths to alter the relationships between the compositional elements in your photo, you're being mastered by your photography gear, instead of using it to realize your vision.
The Single Focal Length Challenge:
While it's best for this challenge to go out and buy a couple of primes, if you already have zooms, you can still do this. For one month, pick a couple of focal lengths and only shoot those. The logical choices to me seem to be:
For Full Frame (FX):
For cropped sensor DSLRs (DX, APS-C) and NEX systems:
For mircro 4/3rds (Olympus and Panasonic):
For 1″ sensors (CX, Nikon 1):
If you have a zoom, then just set it at one of these focal lengths before you take the picture and then don't change the zoom. Use it this way for one solid month of shooting, i.e. at least three times a week. If you don't shoot that much, then use these primes (or zoom set to these lengths) for 12 outings. When you do this, pay attention to the difference between the background and foreground in each picture and how the relationship stays about the same even when you change a foreground, how depth-of-field changes for the same aperture depending on the focal length and how the lens sees the world. At the end of the month, if you feel like you've mastered one specific focal length, then switch back to using the zoom like a zoom for a couple of weeks. After that, switch back to just using the primes or set focal lengths and notice any changes in how you compose and work. If after the month or 12 outings, you don't feel like you've mastered one focal length, stick with this challenge for one more month.
If you take this challenge, I'd be interested to see and hear about your results.
The Difference of 20 Minutes
You know what they say about the weather in Minnesota and the Midwest: if you don't like it wait five minutes. That was the case this fall when I visited northeast Iowa to shoot the fall colors over the Mississippi River in one of the most scenic parts of Iowa. I went to Pike's Peak State Park, a park that I helped build trails in when I was in college. These two pictures were taken a mere 20 minutes apart. Check out how the color, light, tones and fog has changed. Click each image to see a bigger version.
Iowa at Night
There are so many neat churches that aren't used anymore in northeastern Iowa. I just love to photograph them at night. Wouldn't it be a fun workshop to spend a weekend chasing the moon and the Milky Way in northeastern Iowa to get pictures of it behind these old buildings. It's something that I'm thinking about for the future.

The Great Smoky Mountains National Park Photography Workshop
This was the first Smoky Mountains Photography Workshop that I ran and although the color wasn't as great as normal, so said the locals, it was still pretty spectacular. I love the north shore, but if there is one other place in the world that I'd like to live for a year, it's the Smoky Mountains. I'd love to go back this winter, and if you're interested in a workshop out there, I could be talked into doing a small group workshop there in January. Here are just a few shots from the about 2000 that I took over the 8 days I was there. I'm still sorting images and suspect I'll end up with about 50 to 75 keeper and maybe 5 or 6 amazing shots, which is really high for 8 days!
2014 Photography Workshop
Registration is open for my Winter Photography Workshop. I have 3 spaces left. If those fill, I may add a second session. This is my most popular workshop of the year, because the sun rises and sets over Lake Superior and the contrast because the icy shoreline and the fiery sky is something to behold. It's amazing. Registration for my Spring Waterfall Photography Workshop will open just in time for the holiday shopping season. For some reason, it's the most popular workshop for giving as a gift! You can email me know to get on the waiting list.
February 7 to 9, 2014 – Lake Superior Winter Photography Workshop
February 21 to 23, 2014 – Winter Photography Workshop (2nd session if the 1st one fills)
April 25 to 27, 2014 — Spring Waterfall Photography Workshop
Mid-June: Wildflower Photography Workshop
June 27 to 29, 2014 — Lake Superior Kayak Photography Workshop
August 20 to 24, 2014 — Northern Night Skies: Night Photography Workshop – 5 day
September 24 to 28, 2014 – North Shore Fall Photography Workshop  – 5 day
October 3 to 5, 2014 – Fall Photography Workshop – 2.5 days – Photography clubs can book this entire workshop.
October 17 to 19, 2014 — Great Smoky Mountain National Park Fall Photography Workshop — Pending due to government shutdown.
October 25-26, 2014 — October Skies: Night Photography Workshop
November 7 to 9, 2014 — Gales of November Photography Workshop
2014 Calendar

Details
11×17 inches
Sturdy cardstock
Spiral bound
12 months
Images from the north shore of Lake Superior and nearby locations
Price: $21.99
Purchase your calendar at Lulu.com by clicking here.
Select Pictures from October
I shot a lot in October. These are a few of my fav. shots. Click the thumb to see it larger.