December Newsletter: Keep Your Hands Warm During Winter Photography
With the massive amounts of snow that we've gotten over the last few days, it's hard to think back about November. November is always about changes. The land starts to freeze and then it thaws and then it freezes. It's a fun, but challenging time for photography, especially because your hands start to get cold in the cold weather. I often get asked how to keep your hands warm during winter photography or during the shoulder seasons, so for this newsletter, I'll explain. Also, check below for a new workshop announcement.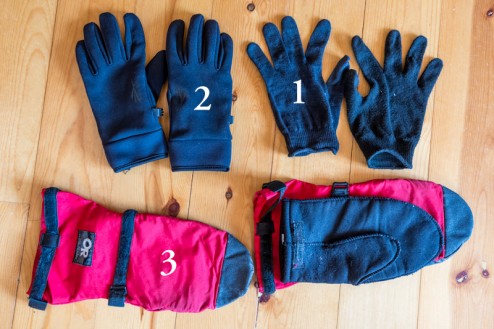 Keeping your hands warm during winter photography is a challenge, but with this simple glove system, you'll keep your hands warm and be able to access all the camera's buttons.  This system has worked fine for me while photographing down to -30. When it gets that cold, I'll vary it slightly, but the concept remains the same. I learned this system from ice climbing and mountaineering and am pretty happy that it works for photography.
Warm Hands for Photography Glove System Components
1 – Synthetic or wool liner gloves. These typically run about $10 to $30 and because they wear out quickly, I buy two at a time. These work as a base layer and always stay on. Because they're so thin, they make working buttons, dials and knobs easy. If you lick the tip of a finger, it will also operate a touchscreen. If they get wet, blowing on them for about a minute warms them up and helps dry them out. They dry quickly.
2 – Insulation layer. Unless it drops below 10 to 15°F, these are usually worn as an outer layer. My favorite, which aren't shown are The North Face Gore-tex Windstoper Pro gloves or the TNF WindWall gloves. The ones shown here are waterproof and breathable. I use them when active, such as during skiing and snowshoeing, but they need a little activity to stay warm, whereas the TNF gloves stay warm without activity. While these are a little more bulky than the liner gloves, most of the time, you can use them to adjust knobs, dials and buttons.
3- Shell mitts. When it drops down below 10°F, I break out the Gore-tex shell mitts. These are Outdoor Research Modular Mitts. On the right you can see a black fleece liner that velcros into the mitt. You can also buy other types of warmer insulation if you need it or use the shell by itself. As the temps drop, I change the insulation as needed. You can also add lanyards to the gloves so you can take them off and they'll dangle from your wrist. In windy environments this helps prevent them from blowing away. OR equipment lasts a long time. I traded a six pack of beer to a pro snowboarder who was sponsored by OR for these gloves years ago. I've had to repair them, stitch up holes, but they're still going strong.
Here's how to keep your hands warm with this glove system:
I put the liner gloves on and seldom take them off. The liners take the bit out of handling gear and keep your hand protected from cold metals. Over the liners, my insulation gloves usually stay on to operate the camera, but I may drop to just the liners to handle filters or delicate work. When it gets cold I put the shell mitts on and these stay on until I need to handle the camera. Once my composition is set up and I'm waiting for the color, I put these back on. I use a shutter release cord, which is easy to handle when the shells are on, so that's how I trigger the camera.
Photography Workshops
Registration is now open for the following workshops. The rest of the workshops will open for registration mid-January. I've added a new workshop in Des Moines, Iowa at the Neal Smith Wildlife Refuge. I'm teaming up with John Gregor of Cold Snap Photography in Two Harbors to teach a two instructor workshop. It's a new format for me and it's rate is about the same as the classes that I teach at the North House Folk School, so it's a bargain. If you live in Iowa, make sure to check this one out.
Select November Images
Here are a few select November images. Click the Thumbnail to view the full-sized image.