The Grand Marais Photographer Newsletter May 2012
March was warm and April was not so warm, which was an interesting switch. On the north shore, you never know what you're going to get in April. It's one of those months that locals call the mud season, because you can almost always count on mud during the end of the month. On the other hand, I've cross country skied until late in April before. This year we didn't have the snow cover to drive the waterfalls, but luckily it rained hard just before my waterfall photography workshop. One interesting point to this month was that we also kept on getting dustings of snow up over the hill from Grand Marais. Thursday morning was the last dusting that I woke up to. I'm really looking forward to photography in May as things warm up. I just heard the bloodroot is out!
The Photographer's Guide to Minnesota's North Shore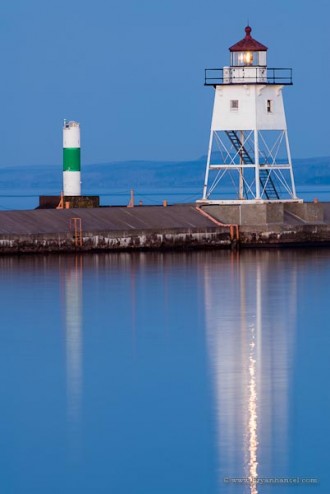 I mentioned this project on my Facebook page, but if you don't follow along there you might not have heard of it (I guess I did mention it last month). Here's what I'm proposing:
I'll write The Photographer's Guide to Minnesota's North Shore over the course of a year. Each month I'll release two locations and after I finish, I'll put all the locations into a eBook (electronic book).
I'm doing it to raise money, so this will be a project on Kickstarter.
On Kickstarter, you pledge to support my project, but if it doesn't reach the funding level that I'm shooting for, then you don't need to pay anything. If it reaches the funding level, I do the book.
I'm doing this to raise money for a new camera and computer system. Nikon came out with a new camera, which was more expensive than I expected, and the files won't even load on my computer without freezing it up because they're so big. I really need to raise somewhere between $3,000 and $4,500 with this Kickstarter. Beside the camera, I also need to pay a graphic designer who is going to do the eBook for me at a very good rate and I'll need to pay a copy editor unless I can find someone who is willing to do it.
Here's the neat thing about Kickstarter. I get to set reward levels. So far, I'm thinking about these rewards:
$10 – A copy of the ebook.
$15 — A copy of the ebook plus a copy of each location as it is released.
$20 — A copy of the ebook plus a copy of each location as it is released and a postcard of an image from the project.
$30 – A 8×12 print signed by me. Plus the ebook plus a copy of each location as it is released.
$70 — A 12×18 print signed by me. Plus the ebook plus a copy of each location as it is released.
$110 – A 16×20 print signed by me. Plus the ebook plus a copy of each location as it is released.
$200 – A one-on-one half-day photography lesson. Plus the ebook plus a copy of each location as it is released.
$350 — A photo taken during the project just for you. Printed 12×18 signed by me and never printed again. (Limited to 10) Plus a copy of the ebook plus a copy of each location as it is released
$500 – A full-day photography lesson for you and three of your friends. Plus the ebook for each of you plus a copy of each location as it is released. (Limited to 4) This is a discounted level from my normal small group workshops.
Probably a couple of other levels, too.
I could use some ideas here. What would you want?
A Sample Location
This is a rough draft of what a sample location might read like. It will have plenty of pictures and should spread out between 3 and 4 pages. I estimate between 600 and 1000 words per location. The final book should be around 20,000 words and 70 pages. Again, I'd love feedback. Artist's Point will be included as the 23rd location.
Area:  Artist's Point
How to Get There: You'll find Artist's Point in Grand Marais, and it's one of the easiest and most scenic photography locations on the north shore. At the only stoplight in Cook County and Grand Marais, turn towards Lake Superior until you get to the big U.S. Coast Guard building parking lot. From the parking lot walk towards the lake until you see the sign for Artist's Point. If you turn towards the right (west), you'll walk towards the lighthouse. If you turn towards the left (east), you'll walk towards Artist's Point. Keep in mind that the shore runs almost due east and west in Grand Marais, so it feels a little confusing, because you expect Highway 61 to run north. If you have this mindset, you'll be looking south during the sunrise.
Best Season and Date Range: It works for all, but if you want to get a picture of the sun rising over Lake Superior plan to be there sometime between approximately August 25th until April 20th. Artist's Point works best for sunrise, but you can also work at getting a sunset shot of the lighthouse from either the breakwall area or from the Coast Guard parking lot. For the sunset, you should plan on being there between October 15th and March 1st, although the sun is more over the lake in November, December, January and February.
Artist's Point also works well on overcast days for shooting pictures of delicate flowers. You can often find harebells growing out of cracks in the rock. If you look hard enough, you may find some fireweed and columbine. In the woods, you can find more varieties of flowers. I find the bunchberries particularly scenic.
Best Time of Day: Sunrise for Artist's Point and sunset for shooting the lighthouse. Overcast days for flowers. Midday offers harsh and unphotogenic lighting and makes it hard to shoot anything on the point. Skip it midday.
Area Description: Artist's Point divides into six different areas: the east bay, the point, between the breakwall and the point, the breakwall area, the lighthouse and the harbor side. Each area offers different views.
The Point almost always works well during the year. Even during the summer when the sun rises to far inland to get a picture of it over the lake, you can still get good color at sunrise. Two small islands sit just off the point and waves break over them anytime the waves are higher than a foot. Watch for reflections in puddles that make great foregrounds here.
The East Bay offers a rocky shoreline, which makes an okay photo, but the real area of interest are the old dock pilings that punch through the beach's and water's surface. This works better on the edge of the date range, because you need the sun to rise further north to get it to light up the bay. The north side of Artist's Point is lined with five to 10-foot cliffs that often are the earliest areas freeze during the winter. They stay in shadows all winter long.
A rocky shore makes up the space between the breakwall and the point. Here you'll find several large cracks/gullies that split the point apart. These photograph best when the sun is furthest south, so aim for these in January and February.
The breakwall area also gets good during January and February, so if you only have one sunrise, I suggest that you scout both areas the night before to see what catches your attention. Along the breakwall, the rocks are smoother and closer to the water. There is a place with very jagged rocks that works for a sunset. Sunsets from this area almost always have the lighthouse in them. It's hard to avoid it. Where the path from the Coast Guard building meets the breakwall, you can often find Inuksuit, rocks balanced on other rocks. These are fun to photograph if you have a few spare minutes. Just to the west of the path, the water runs behind the basalt rocks and makes for interesting foregrounds.
The lighthouse: The classic shot in the area is the sunset behind the lighthouse, and it's best to get that shot from the Coast Guard parking lot with a telephoto. Don't be afraid to shoot the lighthouse from the breakwall area, because you can often get interesting photos there.
The harbor side of Artist's Point is characterized by knee high to head high brush. It's hard to photograph, but in winter before the harbor freezes a good north wind can blow spray over the brush which turns the area into a magical ice land full of unusual shapes and textures. Combine the shapes with a deep blue sky and you have great ingredients for pictures. If you're into wildlife, I've seen otters and a beaver hanging out in this area.
What Gear to Bring: For lenses, think wide for sunrise, something at least 24mm wide (35mm equivalent). There are so many great foregrounds on Artist's Point that I still haven't had a chance to shoot them all. With a month or three of dedicated time devoted just to Artist's Point, you might still not exhaust the possibilities. Every time I go out there I find a new and interesting foreground to photograph.
For sunsets with the lighthouse, you need a telephoto of at least 200mm, but 300mm if better. When it's stormy and waves are breaking over the lighthouse going to a 400mm lens doesn't hurt.
The flowers on Artist's Point are small and delicate. I recommend a 105mm marco lens with extension tubes for getting close.
Notes: Despite being so close to town, you'll often have all of Artist's Point to yourself at sunrise.
Shameless Self Promotion
It's been an exciting year for workshop. All mine have been filling up, and everything is full until my Fall Photography Workshop and my Gales of November Photography Workshop. Those still have spaces. The Fall one is going to be pretty hardcore. We're going to hit all the great places in the county for fall photography. I'm really excited about it. We're also going to do a night season which will be fun.
Wonder what it's like to take a workshop with me. I got this bit of testimony from the last workshop I taught:
I expected this to be a VERY good workshop and it exceeded my expectations. I'm more than pleased; it was worth every penny. Thanks again for a great weekend. – Linda
If you can't make one of my formal workshops, I also teach one-on-one photography workshops and small group workshops.
FREE Memorial Day Weekend Photo Walk — Meet at 6am at the Coast Guard building in Grand Marais. The walk lasts until 7:30am.
Select Photos from April