Grand Marais Photographer June 1 Newsletter
Brrrr….May has been chilly, which is a shock after such a warm March, but not so shocking after a chilly April. Things in the northland are warming up though and it's gotten green out. Grand Marais is coming to life with visitors showing up. You now need to look both ways before crossing the street, and Highway 61 is busy enough again that you have to wait a bit before pulling out onto the highway. The flowers are blooming now and everything is green, green and green. After what felt like a long winter, it's good to see all the green, and to top it off, we had a rain storm that dropped six inches of rain in about 24 hours. That made the rivers come up to the highest levels of the year. They're still pretty high, so if you hurry, you can get great photos of them.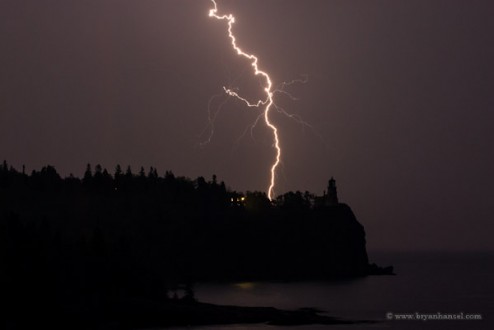 Capturing Photos of Lightning
This month one of my most dramatic photos was of a lightning strike over Split Rock Lighthouse. Capturing lightning is actually pretty easy, but time consuming and hit or miss. Here are the steps to capturing lightning strikes:
Figure out where the storm is going to hit by watching radar.
Set up a tarp and settle in for the storm. Make sure to get into an area that's protected. Under a park pavilion is probably a better idea, and keep in mind that you could get hit by lightning (and die). Capturing pictures of lightning is dangerous.
Set up your camera on a tripod pointed towards where all the lightning is flashing. If you're trying to get a landmark in the frame, put it in the frame and hope that eventually you get a flash in the picture.
Determine the longest exposure you can get without overexposing the scene. At night, it's easy, because the lightning will actually light up the frame, so you can shoot 30 second exposures at f/4 or f/5.6 with an ISO at 200 to 400. During the day or twilight, try to get out to 1 second or longer by changing your f-stop to f/16 or f/22, ISO as low as it will go and adding a ND filter or polarizer.
Set your camera to shoot continuous exposures. I just lock the button on my shutter release cord.
Take pictures until you run out of batteries.
Go home and delete the 100s of photos of nothing and keep those that have lightning in it.
For my Split Rock Lighthouse photo, I ended up shooting for hours and hours and got two shots that I liked.
Lake Superior Photography Workshops
(shameless self-promotion)
My Lake Superior Photography Workshops for 2013 are almost finalized, and I'll announce the dates and locations this month. I still have space in two of the remaining workshops this year, plus I'm adding one for this October — think Halloween — so save dates. This is a secret until officially announced workshop, which I'm really looking forward to. I'm taking one of my most popular community education classes and turning it into a 1.5 day workshop.
Here's what has space this year:
Fall Photography Workshop — September 26 to 30, 2012 (6 spaces left) — Join me on Minnesota's north shore for a five day photography workshop. We'll photograph the north shore from the Lutsen/Tofte area to Grand Portage and the Gunflint (Funflint – because it's fun to photograph) Trail. The King of Night Photography, Travis Novitsky will join us to help teach a night photography session. Aspen Lodge is hosting this event and has offered a massive 25% off of room rates.
Gales of November Photography Workshop — November 9 to 11, 2012 — Photograph Lake Superior during the statistically stormiest weekend of the year. The goal is to capture dynamic pictures of waves and moving water and visit locations on Lake Superior. I've been running this one for a couple of years and it always fills up with great photographers.
Facebook Timeline Photo Giveaway
By special request, I'm giving you the rights to use the following photos for your Facebook timeline. Here's how to snag the photo:
Right-click the photo.
Select "Save Link As."
Save to your desktop.
Click on "Change Cover" on Facebook.
Select "Upload Photo."
Find the photo on your desktop and upload.
Adjust the crop if needed.
Let me know if you used one.
Enjoy.
Timeline photo 1:

Timeline photo 2:

Timeline photo 3 (This is for my Grand Marais kayaking company North Shore Expeditions):

May's Photos
Here's a selection of photos that I took in May