December Newsletter: Improve Your Photography By Finding What You Think is Cool
It's hard to believe that it's already December in the northland and that Lake Superior shore is turning icy. It's the beginning of my favorite time for Lake Superior photography. I just love the winter. I have a few spaces left on my Lake Superior Winter Photography Workshop, so you should get signed up if you want to come up to the icy north and get awesome winter ice photos. November was a slow photography month for me. It usually is. After I finished teaching my Gales of November Workshop, it's usually time for me to take a rest from the busy fall workshop season, but this year, I added a Lightroom class at the Grand Marais Art Colony and then a Badlands National Park Workshop, so I decide to really take it easy. Still, winter came early this year, which meant awesome ice throughout the month of November. So, I didn't get my creative break that I usually take to recharge myself for the winter. See select images below.
In November, I read about a photographer who quit his job, sold off his stuff and decided to live out of his van. He wrote about his story and it was celebrated across the Internet. I thought, while admirable, it was a bit extreme for most people, so I wrote about How I Changed My Life Without Changing My Life and How Photography Helped.
Find What is Cool and Improve Your Photography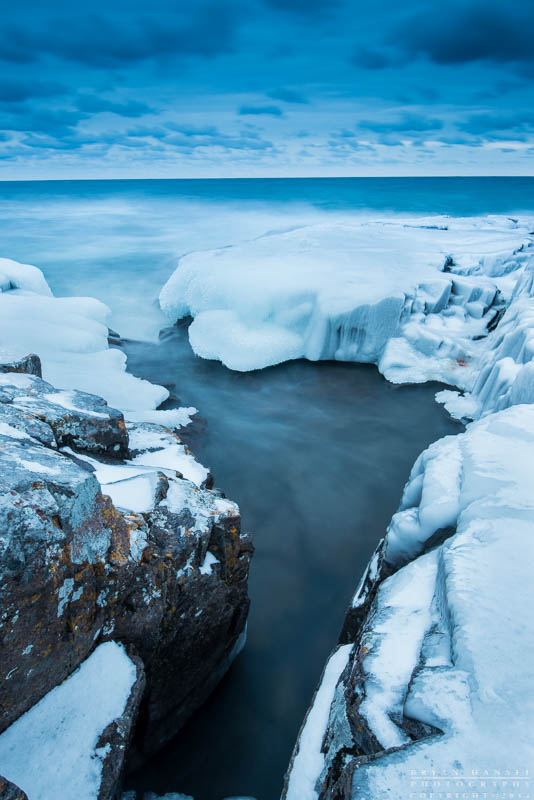 One question that I get on my workshops is: how do you know what to photograph? I've thought about this recently, because I've gotten the question more this year than in past years, and I've been able to simplify it down to one concept:
Photograph what you think is cool.
Seriously, it's that simple. When I head out to photograph, I'm always looking for what I think looks the coolest. Besides looking for the coolest thing, I'm always looking for something specific. I'm looking for the coolest shape, line, pattern, texture or color. That's the key to what I do. I look for the coolest shape, line, pattern, texture or color. And, when you start looking for the coolest shape, line, pattern, texture or color, you'll have no problem finding something to photograph.
Shapes: It's easiest to find geometric shapes, such as circles, squares, triangles, but any cool shape will do. Keep in mind that shape of the photo creates a rectangle and that you can use the photos edges to create shapes.
Lines: Lines are simply positive or negative lines that lead into or across the image.
Patterns: Patterns are cool things that repeat.
Textures: Are the things that you can feel. Does something look smooth, bumpy, jagged, etc.?
Colors: What cool colors stand out that you could use to make a shot?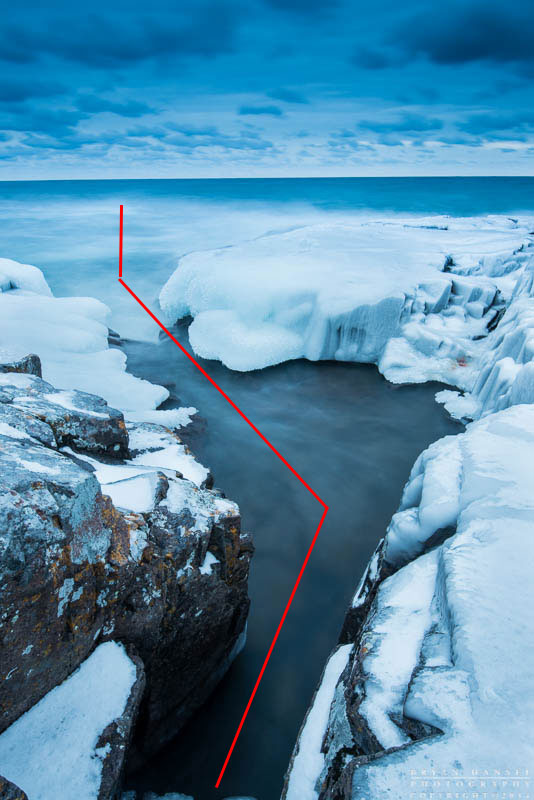 After you think about shapes, lines, patterns, textures and colors, all you need to do is find a cool one on the shore. The best approach that I've found and the easiest to learn is to find one cool thing and then simplify your scene to make that one cool thing the focus of your image.
For example, when I took this photo of an icy slot leading into Lake Superior I wasn't thinking about how cool it would be to find a neat icy scene to photography, I was thinking that I need to find a cool shape, line, pattern, texture or color. I ran across the cool negative space line of water that runs up the slot, jogs to the left and then leads out to the lake. I set up my composition so make that one line the focus of my shot. You can see the line I drew in the image to the left.
Here's what you need to do:
Find that one cool thing and make it the focus of your shot.
Give this a go and let me know what you think.
As a bonus exercise: can you find all the triangles and the one rectangle in my image? I used the triangles to balance the shot and the rectangle to work as a contrast to all the triangles.
Two Ships, the Lift Bridge and Bentleyville
For the holidays in Duluth, they set up this awesome display of lights in the harbor park. They call it Bentleyville named after  Nathan Bentley. Bentley started this as a massive light display at his home. After it got so huge, he was invited to Duluth by the mayor to hold his light display there. They have an agreement to keep the lights there until 2015. I wanted to photograph the display this year and had planned to shoot it during the blue hour at a different location. As we were driving to get there, we saw two ships about to come under the lift bridge and into the harbor. I stopped at the first place I could find to shoot the scene. It wasn't ideal, but sometimes, you just have to go with it. There was a twig that stuck up into the shot and I couldn't move one way or the other to avoid it. I ended up cloning the twig out of the shot, but that isn't an ideal solution for me. Still, I do like the shot. Apparently, it's rather rare to see two ships coming in so close together. Some folks are calling this Duluth's Christmas Parade.
Buy the Two Ships and Bentleyville print here.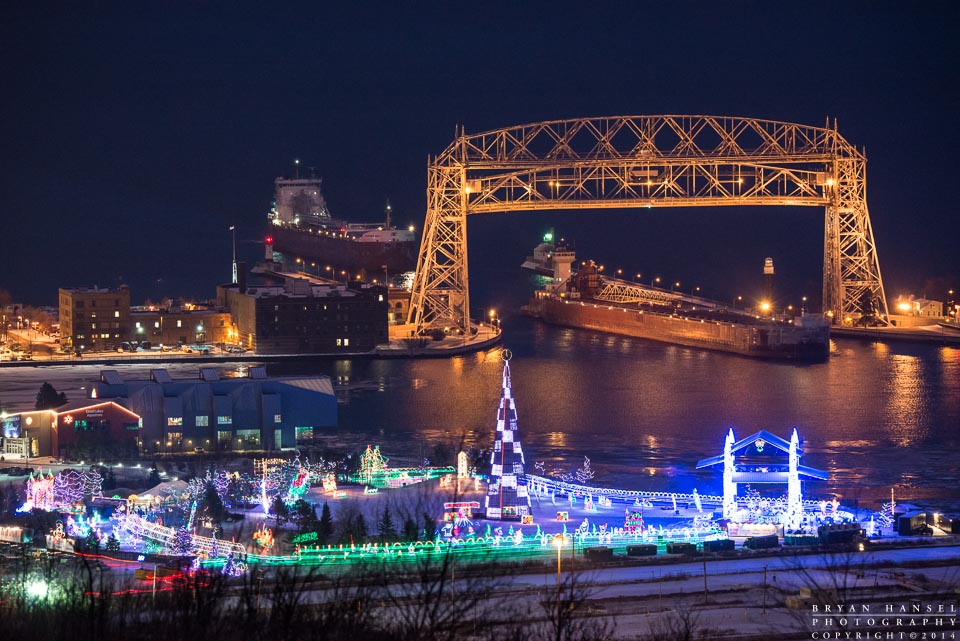 Select November Images
These are a few select images from November. Click the thumbnail to see a larger version.