February Newsletter: Compositional Elements are Key
What and odd month that just passed. January came in cold, got warm, rained, hit the 40°s F and then dropped to the -20°s F. The shoreline went from ice to basalt to ice, and the ground near the lake went from snow, to clear, to ice, to snow — sort of reminds of the ancient Minnesotan proverb, "If you don't like the weather, wait a minute." I wonder why Minnesotans love to talk about the weather or Midwesterners in general. For photography, the month offered ups and downs. Sunrise is late and sunset is early, which makes it easy to get out for both, and the sun rises and sets over Lake Superior, so it's perfect for shoreline pictures. The sub-zero weather creates sea smoke and cloud banks over the big lake which makes for great pictures, so winter, especially when it's below zero, is my favorite time to photography the big lake. Towards the end of the month, I started noticing more ice in the harbor and in the shallow bags on the lake. Maybe we'll get good pack ice this year? If it stays cold and calm, we should see plate ice by this weekend.
Compositional Elements are Key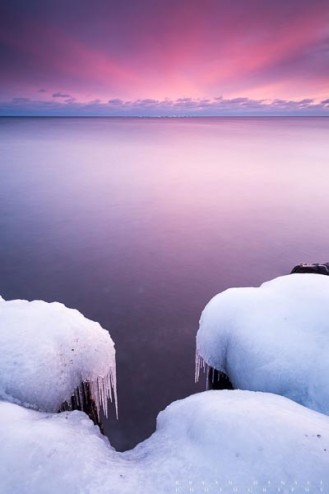 Composition is one of the most important parts of making a good photo. I think that it's probably the most important part, because if you have good light and a good subject but a poor composition the photograph will fall flat. So what exactly is composition?
Composition is the arrangement of the important elements that you have decided to include in the photo.
So what are compositional elements?
Compositional elements are the building blocks of a good composition. They include shapes, patterns, lines, textures and colors.
The shapes can be geometric shapes, such as triangles, rectangles, hexagons, etc., or other shapes that you recognize in nature. Patterns are when shapes repeat. Imagine cracked mud or repeating patterns in frost or water droplets. Lines are just lines that go through your composition, such as cracks in rocks, tree branches, shorelines, street clouds, etc. When you point them at the horizon, they create depth, when they run diagonal across the scene, they create dynamic tension and when they run parallel to the edges of the photo, and they create a static composition. Textures are the rough surfaces that attract interest, such as wood grain, rocks on a beach, sand. And colors are the bright colors in the scene. In the example photos the compositional elements are: lines (clouds, in the ice), color (the sunset color reflecting in the lake and ice), patterns (the three lines in the ice repeating in the clouds). There's also texture in the ice and clouds, but those are not a primary elements in this photo.
The reason I say that compositional elements are key is that a great composition technique can fail if you don't use the right compositional elements, i.e. you need to find the compositional elements before you can apply compositional techniques.
Exercise: Spend an afternoon with your camera finding and photographing only compositional elements. Identify shapes, patterns, lines, textures and colors for each photo. Zoom specifically in on each element (fill the frame). Experiment on each element you find by framing it from different angles. For example, if you find a line, make it go diagonal or parallel to the edge or make it lead into the background. I can't emphasize enough that you need to zoom in tightly on each object. This exercise is best done handheld, but you can use a tripod if you like. If you're going to use a tripod, try to frame up your shot handheld and then add the camera to the tripod. Then next time you head out to photography, look for elements of composition before you compose.
Interesting Products for Photography I Found in January
In January, I found a couple of products that might interest you: a magazine, winter traction devices and a new camera.
Photograph, Issue 2, Winter 2013
In my last newsletter, I shared this magazine and now issue two is out. The portfolio section includes three different photographers shooting in three different genres: nature (landscape), wildlife and portraits. It's a good mix of photos.  The article that makes the magazine worth owning is John Paul Caponigro's article about Using the Frame, which is a compositional technique article. He writes elegantly about techniques, some old and some new. Younes Bounhar's article on long exposures is very good. The food photography article by Kevin Clark is outstanding, and the rest of the magazine is pretty good. Why don't they make print magazines like this?
Check it out: Photograph, Issue 2, Winter 2013
STABILicers Traction Device
Walking on ice without some kind of traction device can mean a swim in the icy Lake Superior, so I've used different devices to do it. The best are a set of mountaineering crampons, but crampons are heavy, hardish to put on and make you look crazy if you're in an area with lots of people. I've tried YakTraks, but found that they don't last long and they fall off often (get the one with the strap or add a Velcro strap to avoid this). I had a gift card for REI to spend when I saw they offered STABILicers, so I ordered a pair. All I have to say is WOW! They work almost as well as crampons, but I've noticed that on slippery ice I really need to kick the spikes in to get traction (YakTraks don't work on really slippery ice). I can walk up inclines. And, these are easy to put on; you just put them on with two Velcro straps. If you hike icy trails or take pictures on the ice, I highly recommend these.
Check it out: STABILicers Traction Device
Sony NEX-6
I've not had good luck with camera equipment in the last four months. Nikon has had a lens for almost two months. They're waiting on a part. Then the 10-pin connection on my D800 stopped working, so I ordered in a Sony NEX-6 to use while the Nikon is in the shop. The NEX-6 uses an update of the Nikon D7000 sensor and with an adapter uses Nikon lenses (and pretty much any lens out there – hello Contax G lens!). Right out of the box, it gave me an error code. After a day the Sony started throwing up an error code after every picture! So, it went back. Hopefully, that's the last camera/lens malfunction that I have for a while. While, I only had the NEX-6 for one day, I feel in love with its size. It's about the same size as a bigger point-and-shoot. It's hard to believe that I'll get better than D7000 quality out of such a small camera. There were some downsides. Mainly, that the camera felt cramped, the menu system was a mess and some of the buttons change functions based on the mode. It seems like it's going to be a hard camera to get setup, but the size and image quality will make it perfect for kayak, canoe and backpacking trips. It'll also be nice not to have to carry my heavy backup Nikon and a second heavy tripod (which I never do). With this camera and a small light tripod, I'll be able to take pictures while leaving my main camera setup. My replacement is coming on Thursday and I can't wait to get it into the field.
Check it out: I ended up buying the NEX-6 with a 16-50 lens ($100 off right now), a Sony 16mm, a Sigma 19mm and a Sigma 30mm. If I like the camera, I'll buy the 55-210 and pick up a couple of Contax lenses and an adapter.
Upcoming Classes and Photography Workshops
Select January Pictures
January was a good month for me for pictures even though I had the flu for a week; I still got out and got lots of pictures. If you're in Grand Marais during February, you can see four of the photos I shot this month at the Art Colony.
Click the thumbnail to see the larger version. If you want to buy a print, they are available in my online shop. If you can't find the image you want, let me know via email and I'll email you the link.
Thanks,
Bryan