January 2012 Newsletter – The Grand Marais Photography Update
This year December seemed more like November, and November seemed more like December. Usually on the north shore, we get waves — lots of waves — in November, but this year it was relatively calm, and then December happened. Constant winds blowing across Lake Superior drove waves to Grand Marais and made for great photography. If you follow my photography on Facebook, you probably saw some of the photos of wave action that I managed to get during the month. If you didn't I added a new photo gallery on my website for Grand Marais Lighthouse Waves. As I sort back through my images this winter, I'll add more. Right now I have a few from this year and a few from the Extra-tropical Cyclone of October 2010 and other events as well. All in all December was a great month for photographing waves in the northland!
How Do You Know When There Will Be Big Waves on Lake Superior?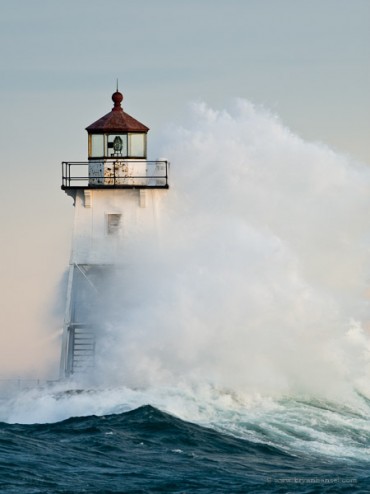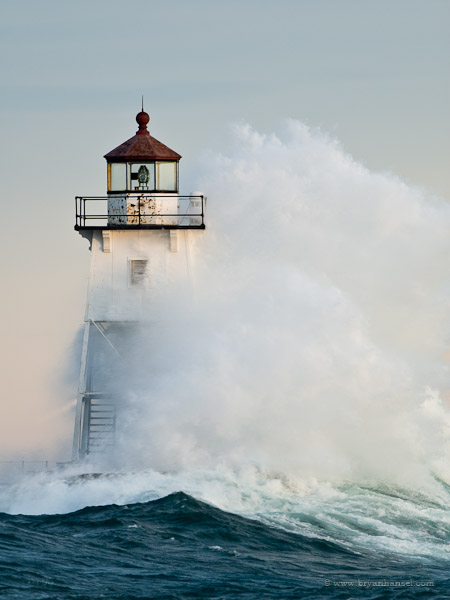 Last month on Facebook, I was asked, "How exactly would a person know what the waves are like up there? I am in the Cities and have been dying to see big waves."
Here's my answer:
It's a black art of weather prediction. The waves get best for us on northeast and southwest blows. Although a really strong wind from directly east, west or south can also give us good waves. North and northwest winds do nothing for us. The shore will be calm on those winds.
Waves are created by wind and their size results from the combination of wind speed, wind duration and the fetch (distance that wind blows over the water). To get bigger waves you need a long fetch (NE & SW), strong winds and the wind blowing for a long time.
With 15 to 20 mph wind from the right directions we're likely to see between 2 and 6 foot of waves depending on the time the wind is blowing. With winds between 20 and 30, we'll often see 6 to 8. When winds get above 30 mph is when the big waves hit.
The Grand Marais lighthouse works best on 20+mph days with SW winds. It can also go with south and really big NE winds. The East Bay explodes with NE winds. If it's raining and the NE winds are blowing often the downtown parking lot in front of the Co-Op will flood, because the water level of the East Bay rises with a storm surge and seiche which prevents the water from draining out of the parking lot.
There are a few tools you can use to help your search for waves. The first is the NOAA Marine Forecast  and the second is NOAA's Great Lake Forecasting System.  Both have flaws, they often predict waves bigger than we actually get, but they give you good info to go off of.
I use the tools and combine that with NOAA's weather forecast for Grand Marais (or wherever I'm at). I look back at the weather history for the last few hours, look at the forecast and then make that black art prediction about whether or not we're going to have the right weather to make big waves.
But the quick and dirty answer is there will be waves if the wind blows from the northeast or southwest at 15+ knots for longer that a couple of hours. For big waves, the wind needs to blow at 20+ knots for four or more hours.
Mogul's Ice Bar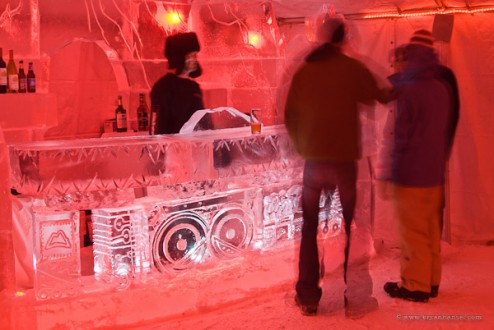 If you're in the area this winter, make sure to stop at Caribou Highlands to see the sculpted ice bar. I had the opportunity to photograph the ice bar on the night it opened. You can see a picture to the left. After I photographed it, I stopped in a Mogul's to chat with a buddy of mine and had Mogul's hamburger. I'm a big fan of hamburgers and I'd have to say that Mogul's serves one of the best on the north shore. See more picture Mogul's Ice Bar website.
Shameless Self-Promotion – Lake Superior Photography Workshop Edition
December brought about some exciting news for me. My Winter Photography Workshop filled up. We added a waiting list. If we get four people to signup before Feb 3-5, I'll teach another workshop on that weekend. It's $250 at Lutsen Resort. To sign up call 218-663-7212.
I still have space in my North House Folk School Capturing the Frozen Shore: Photographing Lake Superior in Winter 1.5-day photography workshop March 9 to 10. This is a bargain at $135. Call 888-387-9762 to sign up.
We opened up the Lake Superior Spring Waterfall Photography Workshop for sign ups. This is a fun one. When the winter snow pack melts, it flows 100s of feet off the highlands down to Lake Superior through basalt canyons and over waterfalls. The ground thunders, and it's one of the most amazing experiences to witness in person. The workshop is hosted by Lutsen Resort, runs from April 20th to the 22nd and costs $250. Call Lutsen Resort at 218-663-7212 to sign up.
Consider an one-on-one Lake Superior Photography Workshop if you want individual instruction.
Winter is a unique and great time to get your family portrait taken in Grand Marais.
Inexpensive Photography Resources
I'm always on the lookout for inexpensive ways that I can learn to improve my photography. Craft And Vision offers many ebooks for just $5 a piece. I have almost every one that they produced and I really enjoy them. Something to check out if improving your photography is a new year's resolution.
Photos From the Northland
Here are a few of my favorite photos from the northland from December.
Happy New Year!