April Newsletter: What Camera Gear to Bring on a Road Trip
This newsletter is a little late, because I was on vacation/road trip/kayaking trip for the last month and didn't have the time to think about a newsletter/process images/stop to catch my breath. My road trip ended up being one of the hardest that I've ever packed for, because part of it was a vacation on Sanibel Island, part of the trip was a kayak camping trip with the Wilderness Classroom in the Florida Keys and part of the trip was a road trip to the Great Smoky Mountain National Park. I always tend to discover a few things on road trips and will list a few below.
Photo Tip: What Camera Gear to Bring on a Road Trip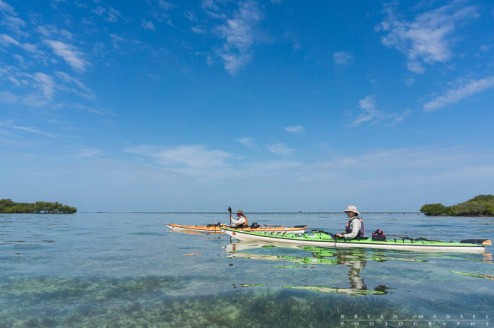 On this trip, I faced a big challenge: on a good chunk of the trip, I was going to be in a kayak and I couldn't bring all my photography gear with me. So, I had the challenge of deciding what I could fit in the kayak and what would have to stay in the car. Unfortunately, in the Florida Keys, we couldn't secure a safe place to park before we arrived, so I didn't want to leave several thousand dollars of lenses in the car. I ended up compromising on photography gear (this bit me in the Smokies) in the name of safety from theft.
I like to have lenses that range from 16mm to 400mm when I'm out in the field, but the majority of my shooting is usually from 20 to 35mm and 100mm to 200mm. So, I know I need that coverage at minimum. When planning for a road trip, here's how I break down my lens choices.
Light(ish) and Compact in Full Frame
You're fooling yourself if you think full frame is light, but here's my take on it. If I really need to go light, I'm taking my Sony Nex-6. All are Nikon lenses.
24mm f/2.8D – Sharp and wide enough on full frame.

50mm f/1.8D – Light and tack sharp.
70-300mm f/4 to f/5.6D — Nikon's VR version of this lens is slightly sharper than the old "D" version, but I own the "D" version, so that's what I use.
Nikon 5T close-up lens. This threads onto the 70-300 and makes an acceptable macro lens.
Versatile and Compact in Full Frame
This setup gives me a lot of flexibility, but compromises on the long side. Some people will use a super zoom for this, but I've never been satisfied with the image quality from a super zoom.
16-35 f/4 VR: Tack sharp, VR, super wide, but it's not light. I could leave this at home and get by with the 24 on the 24-120.

24-120 f/4 VR: Not as good as Nikon's 24-70 f/2.8, but it's a solid performer and sharp enough. I prefer this over the 24-70, because of the extra reach and the vibration reduction.
70-300 f/4 to f/5.6: See above.
Nikon 5T close-up lens: See above.
Photo Trip in Full Frame
This is my standard traveling setup when I'm going someplace specifically to photograph. Except for the 105 f/2.8 macro lens, all these lenses use 77mm filters which simplifies the filter needs.
16-35 f/4 VR

24-120 f/4 VR
70-200 f/2.8 VR
300 f/4 D: A sharp 300 that's lighter than the 300 f/2.8. It's missing VR, which would make this a much better lens, but I can still handhold this and get sharp shots.
1.4x teleconverter: Gets me to 400 f/5.6 with the 300 f/4 and it remains sharp.
105 f/2.8 macro
Filters and Other Gear
I only brought two ND Grads (a 3-stop reverse and a 2-stop soft), this wasn't versatile enough for Florida and the Smokies. Here's what I'm going to bring in the future on all road trips.
ND Grads: 2-stop reverse, 3-stop reverse, 2-stop soft, 3-stop soft

Hitech Format 4×4 filter holder
10-stop ND filter
B+W Polarizer
Remote release cord
Bubble level
Lenspen
Additional Filters for a Photo Trip
On this trip, I went with the Versatile and Compact in Full Frame setup. I also hauled along my Sony Nex-6 with the kit lens for photographing from my kayak. I wasn't exactly light on this trip. I wish I would have had the 300 f/4 and the 1.4x in the Smoky Mountains. There were many shots that I wanted, but couldn't get, because I didn't have the reach.
What to Bring on a Photography Workshop
If you're coming to one of my photography workshops, I highly recommend bringing it all. Something like the Photo Trip in Full Frame or the Versatile and Compact in Full Frame setup.
Upcoming Minnesota Photography Workshops
These are the workshops that have openings for the remainder of the year. The North House Folk School workshops are 1.5 day workshops designed to be less expensive and shorter for people that can't do my normal workshops. The Fall workshop is a 5-day workshop that's intense. Last year, we nailed it and the participants came away with a great fall portfolio from the north shore. Gales is a blast.
I haven't set dates for the Kayak Photography Workshops yet; if you're interested drop me a line.
Great Smoky Mountains National Park Photography Workshop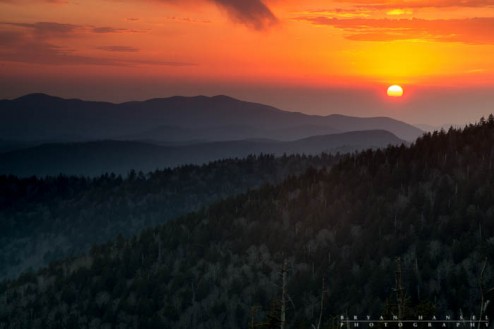 Before I moved to Grand Marais, I used to spend springs in the Great Smoky Mountains National Park and I've backpacked 100s of miles in the park. I recently returned to the park for a few days and everywhere I went screamed fall colors. The good news is that the fall colors out there hit in the middle of October, which is after the fall colors on the North Shore. After talking to a friend that used to run fall color photography workshops there, we figured that the 18th to the 20th would be perfect for a trip. My friend is sending me all his fall color notes and location choices, so much of the scouting for fall is done between my experience out there and his notes. I'm considering doing the Smokies each fall as part of a formal workshop, but this year, I want to go out and scout, so I'm offering an unique opportunity. I think I'm going to be out there for a week or so this fall and I want a few people to come along. You'll learn how to scout a massive park, you'll get a ton of one-on-one time to make sure that you're getting shots that are at least as good as mine and the Smokies are amazing, so you'll go home with lots of great photos. I need at least two people to make this work, but I'm topping the workshop off at four. If you're interested, let me know.
When: October 18th to the 20th (This could vary because I'll be out there for a week, so I'm flexible on this. Midweek will have less traffic.)
Time: Dawn to Dusk on all three days. We'll meet up on the 17th just to talk about the weekend.
Where: Great Smoky Mountains National Park (I'm camping, but there are plenty of lodging options in Pigeon Forge or Gatlinburg.)
How Much: $450 per person. A touch less than my private lessons.
Workshop Size: 2 to 4 people
How to register: Email me at bryan@bryanhansel.com or call me 218-370-8351.
Select March Images
Here are a few select images that I took in March. More of the kayaking trip pictures will appear in next month's newsletter. Click the thumbnail to see the full image.