Night Photography Workshop Worked!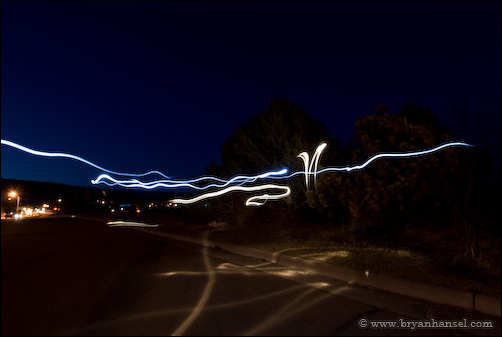 Tonight I taught a Night Photography Workshop. It was 3 hours with 1 hour of classroom and 2 hours down on Artist's Point. All week I've been watching the weather and crossing my fingers that it would be okay for tonight. With 35 mph winds yesterday and rain for the last week I was concerned. I tend to have a track record for the wrong weather on my workshops. For example, on the last two winter workshops, we've had -20 and below. On my Gales of November workshop, we had no winds and two of the most beautiful days I've ever seen in November. But tonight it worked out. Clear sky for attempts at star trails and just a touch too cold, but not bad.
Had a lot of questions tonight, which is what I hope for in a workshop. I always like it if I come home after a workshop with only a few shots, otherwise I don't feel like I'm doing my job. The picture above is a demonstration shot of painting with light while walking through a photo. Some of the participants got some nice photos of me attempting to write in mirror writing "Grand Marais" except I wrote the letters too big. :) I saw a ton of great photos on the back of cameras, which for me is very rewarding. When the students go home with pictures better than anything that I've taken, I always like it.
I tried a couple new things with my slideshow and I hope it worked. I added video of aperture and shutter speed functions. It replaces me bringing a camera in and showing it on the camera. I really thought it looked better on the big screen. What I need to do in so the metering scale in use via manual camera settings on the big screen. That should be very helpful and save 10 minutes while out shooting.
Anyway, Thanks Steve, Don, Regina, Lori, Eleanor, Millie, Gerry, Jim, and Sherry. I appreciate that you came to the workshop and trusted me to be able to teach you something. I hope that you learned a few tricks and if you have questions, please, let me know.