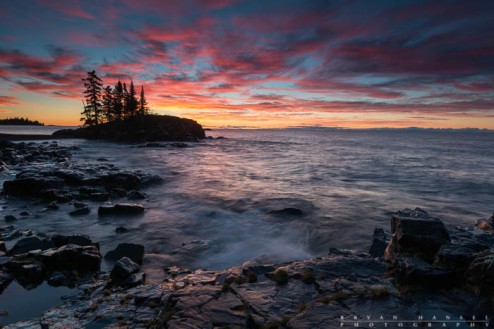 I offer the premiere Lake Superior photography workshops, photography courses and one-on-one and private small group photography instruction in Grand Marais, Minnesota, Lutsen, Minnesota. I also offer workshops at national parks including the Great Smoky Mountains National Park, Theodore Roosevelt National Park (ND Badlands), and the Badlands National Park.
I'm a professional outdoor photographer and outdoor educator with over 25 years of experience. I've been teaching workshops since 2006. You can find testimony about my popular workshops below the workshop descriptions.
My workshops combine classroom time, field time at stunning locations and an image review. Using this combination, I teach you how to master your camera, exposure, filters, how to see and how to capture better photos, how to make better compositions and specific techniques for the subject matter. I find that this combination of teaching tools hits multiple learning styles which helps reinforce the learning process. Experiential learning allows you to quickly learn skills that would take months or years to learn from books or lectures.
When teaching I break down topics into their component parts to give you an analytical workflow and that workflow helps you increase and free your creativity. On my workshops, you not only learn about making great pictures, but you'll also learn how to look at the photo on your computer, identify why the image works and identify how to make it pop while processing it.
During my workshops, I teach:
How to make better compositions. Going beyond the typical techniques so you gain an understanding of not just the techniques, but why the techniques work, so that you can arrange compositional elements organically in your photos.
How to see and how to capture better photos and how what your camera sees differs from what you see.
How to use my method of composition called Juxtaposition in Landscape Photography to create fine art landscape shots.
How both balance and visual flow are more important than specific compositional techniques.
Background/foreground relationships at different focal lengths and how that relationship can create a stronger landscape photo.
Bolder Lightroom processing to maximize the visual impact through emphasizing the flow and reducing flow interruptions.
A concrete field technique for determining the proper exposure using your histogram.
How to use filters to maximize the exposure range of your image, for long exposures and to make colors pop without looking supersaturated.
My photography workshops help you shortcut the learning process, and you will learn techniques that can improve your photography.
The small group size ensures that you'll get plenty of one-on-one time. If you want more one-on-one time, I offer personal and private small group workshops for you and your friends. I also make sure that my workshops are fun, because learning should be fun.
Because these workshops take place in a wilderness context, I hold your safety as my top priority. I'm a WMA-certified Wilderness First Responder and I'm an experienced wilderness guide with formal guide training and the proper permits where required to run workshops. On my workshops, I get you to the best locations while minimizing the risks.
Find this year's workshops below, and if you have other questions email me at bryan@bryanhansel.com. I personally answer every email I receive.
Note: All workshop participants receive a discount code for Singh-Ray Filters and Smugmug.