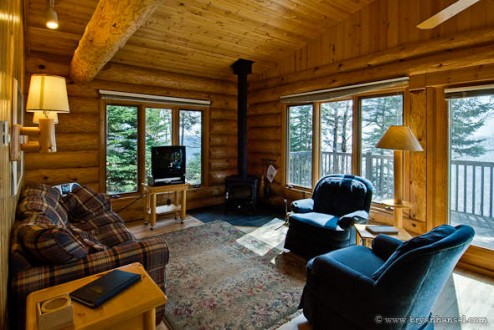 Photographs are a central component of marketing a property. The primary function that photos perform is to get prospective buyers to come look at the property. Along the north shore of Lake Superior, the real estate photos become even more important because buyers spend limited time in the area. Your marketing needs to grab the buyers attention.
In today's market 87% or more home buyers start their home search online; a little thumbnail of the front of the property becomes the first reason buyers choose to look at more photos of your listing over others at the same price and location. Great interior photos in turn become the reason a buyer chooses to come look at your listing. As pointed out by Emily Peck in her October 2010 Wall Street Journal article, In Real Estate, A Picture Is Worth $1,000 or More, and Vivian Toy in her February 2007 New York Times article, Making Every Pixel Count, "a picture can be worth more than a thousand words, much, much more."
Contact me now to set up a photography session at your properties.
[half column title="Compelling Reasons to Use a Professional Photographer"]
There are even more compelling reasons for using great photography to present your listing:
Your home seller client will be pleased how you are presenting their property.
It's a well established fact that great photos and marketing materials are a way to get more listings. Neighbors of the listing property watch carefully how a property is marketed. If they like what the see, they will ask you to list their property when the time comes to sell.
If you are competing for a listing, the commitment of professionally done photography and marketing materials can help you win the listing.
[/half column] [half column title="Real Estate Photography Sells Property"]
Studies that show professional real estate photography sells property:
For more information, read this free ebook: Realtor's Guide to Using Photos In Real Estate Marketing.
Contact me now to set up a photography session at your properties. I'll create photos that will sell your properties, that will send more buyers to you. Invest in an advantage over other area agents with professional photography.
[/half column]
[half column title="Real Estate Photography Packages"]
My standard real estate packages:
Cottage/Condo package  (8 images and 1 exterior)
The Ranch package  (12 images and 2 exterior)
Estate package  (16 images, 4 exterior, 4 special request)
Sunrise or Evening  (Adds impact to exterior images)
VR Tour images (6 single-row images only, no code, no HDR)
Email bryan@bryanhansel.com for a password to the price page.
Travel within Cook County, Minnesota is included. All images are processed and digitally transferred via email or download. I use HDR at my discretion. I license the images to you for the duration of the listing for use in promoting the listing. After the listing expires, all rights return to me. Images may not be resold nor given away. For new agents, half the fee is due before the shoot and the rest due on delivery. No rights are transferred until full payment is received. Complete all staging and styling before I arrive.
[/half column] [half column title="Stock Photos for Real Estate Usage"]
I license stock photos, which are photos I've already taken and have on file, for real estate agents looking to highlight the Lake Superior and Minnesota region. Stock photos are licensed to a specific usage and additional usages cost more. For example, if you buy stock for the Internet and want to run a print ad, the print ad usage fees must be purchased separately. If the advertisement scope covers several regions, usage fees are higher. My stock photos can not be used on any MLS page that insists photos be public domain. Usage rights for stock photos are sold on a yearly basis.
[/half column]
Example Real Estate Images – Click to Enlarge