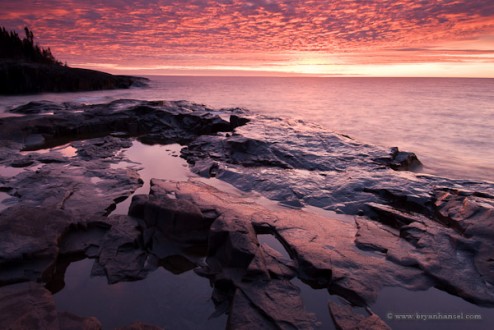 I offer several types of prints for purchase. You can choose from premium prints, which I offer in lustre paper (matte) and glossy paper. Both are printed on Kodak Endura. Or fine art (giclée) prints, which I offer in a smooth or textured surface or as an exhibition quality paper. To get a feel for the type of papers, consider this: the premium prints are what you'd find at an art fair and the fine art prints are what you'd find in a museum. In addition to premium prints and fine art prints, I also offer canvas wraps. On a canvas wrap, the picture is printed on canvas and wrapped around a wood frame. These are fun because you don't need to frame them to hang them on your wall.
[half column]
To purchase a print, just press the "Buy Print" button found below the image. Once you press the button, a Fotomoto box will popup and walk you through the buying process. All prints are made by a professional lab and shipped to you directly. Fotomoto handles any customer service issues you may have, and I'm always happy to help out.
[/half column] [half column]
If you run into any problems or have any questions? Email me at bryan@bryanhansel.com If you'd rather order a print directly from me instead of using Fotomoto, let me know. There's a small upcharge for this premium service.
[/half column]
Purchasing Prints a Visual Guide
First, press the Gallery link in the menu located in the upper right of your screen. It will open a page with a number of albums, such as the two shown below. Click on one of the titles to see the images inside that album.

Once you click on an album, thumbnails of all the pictures in that album will appear. Click on the thumbnail that you want to see a larger image of.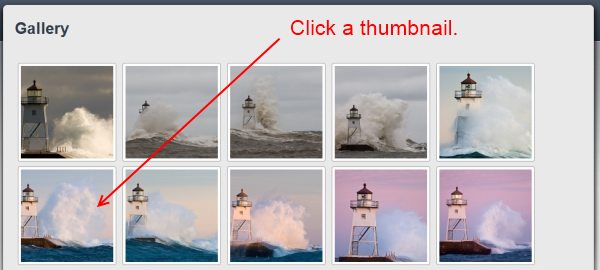 A lightbox with the image will popup on your screen. You must have java enabled on your browser to see this popup. This should work with all modern browsers, such as Chrome, Internet Explorer and Firefox. If it isn't working, I suggest that you update your browser not only to see the image, but also to protect your computer from any problem websites out there.
After the lightbox pops up, press the "Buy Print" link that appears in the lightbox.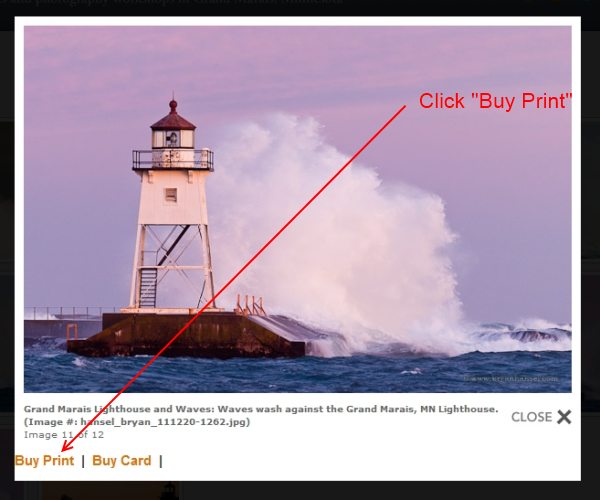 Note: if you press the left or right side of the photo, it will go to the next image in the album.
After you press the "Buy Print" link the Fotomoto popup will take over. Select from Premium Prints, Fine Art Prints or Canvas Prints.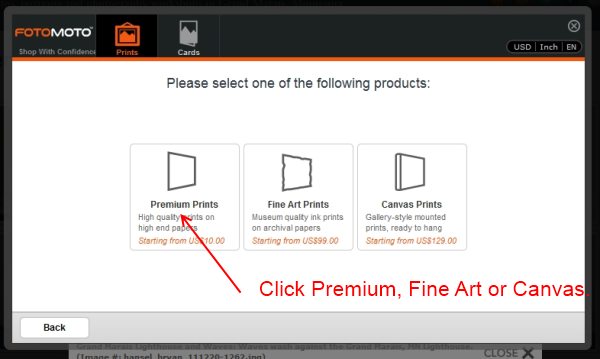 Next, select the size that you desire. I suggest 12 inches by 18 inches for hanging on your wall. You can also change the default print option from lustre to glossy. For portraits, I suggest lustre and for landscapes I suggest glossy, but it's a personal preference. For fine art prints, I really like the textured paper, but you may enjoy the expedition fiber if you like traditional-looking prints. For canvas prints, you get a number of options. Pay attention to the hanger option if you have a preferred method of hanging your prints on the wall.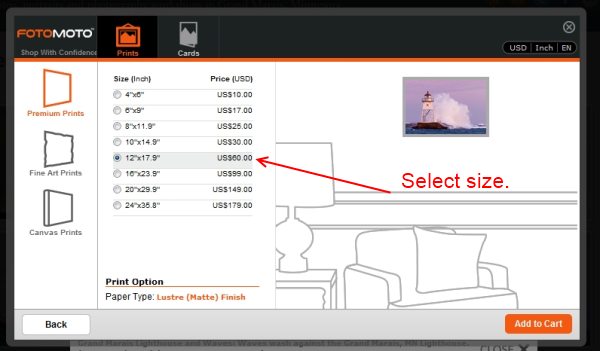 After you select your options, click "Add to Cart." You'll end up at the cart. If you want to buy more prints, press "Continue Shopping." If you're ready to buy the prints in your cart, press "Check Out."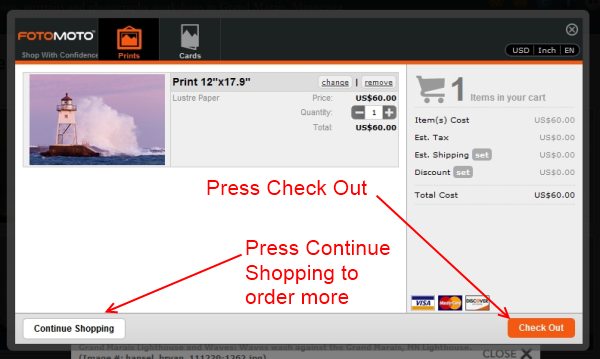 Fill in your details and shipping address, and then press "Check Out" to go to Fotomoto's secure payment processing center.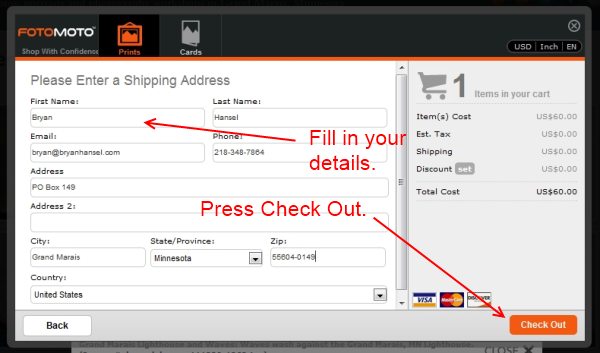 Once you're at Fotomoto's page, fill out your credit card number, billing address and then press "Submit Payment." Through the magic of Fotomoto, both you and I will receive an email showing what you ordered. After I check over the order, Fotomoto sends the files to the professional lab. It takes several days to print and ship after I approve the order, but at this point you can kick back and wait for the print. Fotomoto will send you and I emails when your order prints and again when it ships.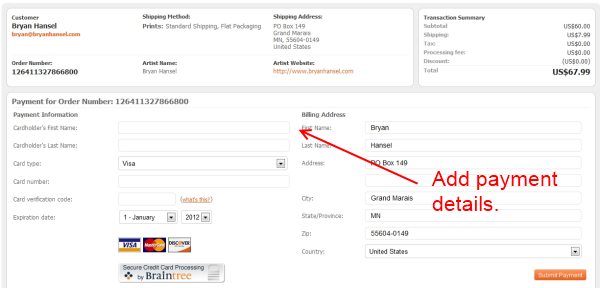 Thanks for your order and if you have questions, email me at bryan@bryanhansel.com