Winter Photography Workshop
In the winter, the combination of all day golden-hour light, sea fog, ice and open water make Lake Superior's shoreline and tributaries the premier winter photo destination in the Midwest. The best month to photograph the area is February, because the sun sets and rises over Lake Superior and the rivers are solid ice which allows for exploration.
When: February, 8 to 10, 2013
Workshop Fee: $250/person
Where:  Grand Marais, MN at Aspen Lodge
For Reservations: Call 218-370-8351
Lodging Partner
I'm hosting this photography workshop with Aspen Lodge in Grand Marais, MN. Aspen Lodge is on the east side of Grand Marais across the street from one of my favorite restaurants, My Sister's Place.  Aspen Lodge offers views of Artist's Point, the East Bay and the Coast Guard Station. It has a giant whirlpool spa, a sauna and a pool. It's within walking distance of downtown.
Rates are 25% off for the 1st floor, and they're 15% off for higher floors. The conference room is on the second floor. When making your reservation, ask for a "Bryan Hansel Photography" room as they've blocked off some rooms for us.
Call 800-247-6020 to make your room reservations.
Weekend Activity Descriptions
This workshop combines classroom time with plenty of field-work time and a final review.  You'll learn photography techniques for landscapes, how to stay warm in February temperatures, and how to keep your camera running in the cold.  There's plenty of time for one-on-one instruction with the small group size.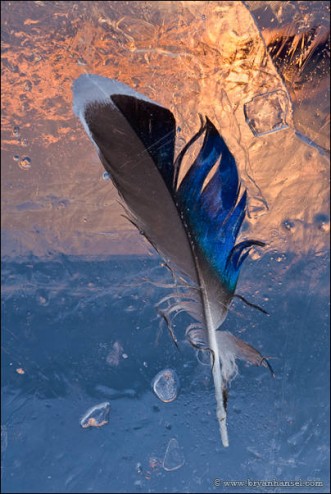 FRIDAY
Meet at 7PM for introductions and two classroom presentations.  The first discusses how to stay warm.  The second presentation focuses on keeping your camera gear running in the cold temperatures.
SATURDAY
The day starts early with a morning session on the Lake Superior shoreline photographing the sunrise.  Then we will break for breakfast which is available in the lobby or on your own.  We'll assemble after breakfast for a brief classroom session and then head back out into the field for a full-day adventure.  Depending on the weather, we may hike deep into a canyon of a North Shore river to photograph frozen waterfalls, or we may visit multiple locations warming up in the van before we venture out.  After sunset, we will break for dinner.  After dinner you may use the classroom to sort through the day's pictures.  Bryan will be around until 9PM to answer questions and give feedback.
SUNDAY
We assemble before sunrise in the  lobby to head out for a sunrise photography session.  Breakfast will be available at the lodge or on your own.  Then we head out for more photography.  The workshop ends at 1PM.
Required Photography Equipment
Camera: A SLR style digital camera or a point and shoot that allows you to manually set your shutter speed and aperture is highly recommended, but other cameras will also work.
Filters: A polarizing filter is highly recommended. Two and Three Step ND Grads with Holder and rings for your lenses. Learn more about filters for this workshop.
Other Suggested Equipment: Bring a tripod, your camera's manual, and a laptop computer. Call for recommendations.