Filters for the Winter Photography Workshop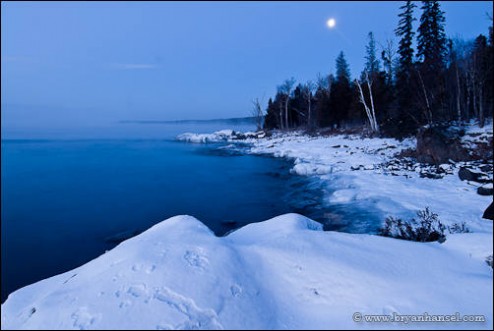 This winter, I'm teaching a Winter Photography Workshop along the shores of Lake Superior — listed as a top destination for winter photography by Outdoor Photography magazine. I've done several of these workshops in conjunction with Lutsen Resort, and it's always fun. The participants take home a great selection of images from Superior's shoreline and from inside the frozen river canyons. We also go home with great adventure stories and new friends.
One common question is about filters. I suggest two filters: an ND grad and a polarizing filter. These two filters cover almost every need for outdoor photography. An ND grad can sometimes be simulated in the digital darkroom, but a polarizer can't. If you're only going to own one filter, make it a polarizer.
ND Grad Filters
An ND grad helps photograph sunrises and sunsets by decreasing the dynamic range between the sky and ground. An ND grad helps you capture detail in both the sky and the ground at sunrise and sunset.  I wrote an article about ND grads here. They're not absolutely necessary — especially with the digital tools we have in Adobe Lightroom and Photoshop.
ND grads consist of three items:
The ND grad itself. Example ND grad filter at Amazon. If you buy one, make sure to by the graduated version. The top should be gray and the bottom clear. Singh-Ray makes the best ND Grads.
The filter holder. Example Cokin "P" holder at Amazon.
A ring sized to fit the filter threads on your camera. Example rings at Amazon. If your lens takes 52mm filters, then this is the 52mm ring to fit it.
To use it, you screw the ring to your lens, then slide the holder over the ring and then place the ND grad into the holder.
Circular Polarizer
I recommend a circular polarizer. You need to buy one that fits your lens, because it screws on the end of your lens. Polarizers enhance colors and remove reflections. They turn skies a deep icy blue. For digital users, you need a circular polarizer instead of a linear polarizer, because a circular version works with the camera's electronic metering system. A linear probably won't. For workshop participants if you buy one lens, buy a polarizer.