La Croix Lake Sunset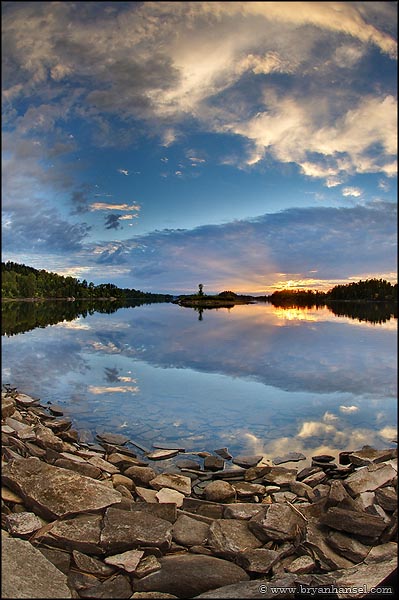 On my Sept. 2005 solo canoe trip along the old Voyager route, I camped for a night on La Croix Lake. The sunset was amazingly beautiful, so I decided to photograph it. When I did, I used my D70 and the Nikkor 10.5DX full framed fisheye. I took a 3 exposure 1 stop separation bracket of the scene and used that bracket and a grad filter in photoshop to blend the exposures.
Here is the same 3 shots using Lightroom Enfuse to blend the exposures. It's pretty impressive on how the final result turned out. There's really detail in the trees.
I ran LREnfuse using the standard settings, imported the result into Photoshop, boosted the contrast, ran a little labcolor boost trick, sharpened, and then preped for web. The full sized version is simply amazing, and the web version is pretty good.
Enfuse is turning out to be a very nice exposure blending tool, and it does it without the weirdness of HDR-style blendings.