Dubuque's Masonic Temple with a Lensbaby and a 0.42x lens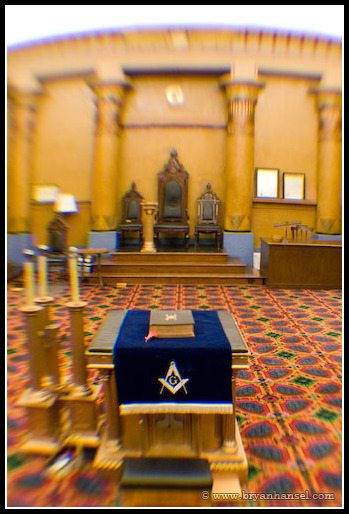 I was in Dubuque, IA last week and managed to spend an entire day shooting photos with a Lensbaby Composer and the new 0.42 Lensbaby Wide Angle converter. I went downtown Dubuque to shoot pictures of the outside of the Masonic Temple only to run into Bob Young, a member of the fraternity. As he walked up, I braced myself for the typical "you can't shoot pictures here" speech, but that didn't happen. Instead, Bob offered to give my mom, Ilena, and me a tour of the temple.
I only had the Lensbaby with me, so shooting at ISO 800 and using the 0.42x lens, I shot about 100 photos. Some of them, like this one, worked out better than I hoped.
This picture is of the Egyptian Room. We quizzed Bob about everything we could see including a secret shovel, which he wouldn't let us in on the secret.
What a great day of luck!
BTW, I love the 0.42x Lensbaby converter. It makes shooting with the Lensbaby so much more fun.