The SHT from the Border to Judge Magney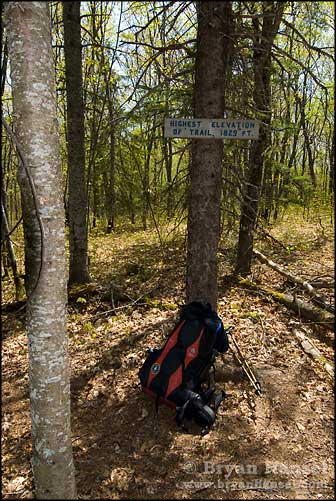 I had a chance to hike the 28.8 mile section of the Superior Hiking Trail over two days this week. I started at the border and hiked to Judge Magney State Park. The five or six mile section just north of the Arrowhead Trail was the best part. This is just at the start to the section. There was no view at the 1829 foot highest elevation of the trail, but there was this nice sign.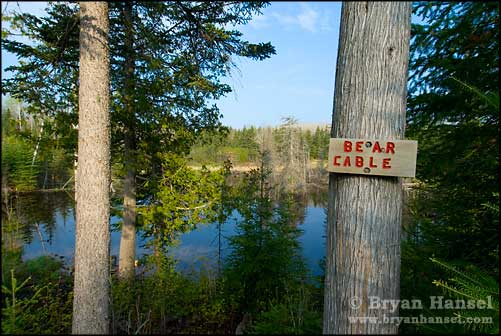 And speaking of signs, this trail is very well signed. For example, in the campsites, they sign everything from the privy to the bear cables. Bear cables are very nice, because all you have to do is throw your rope over the cable, pull your food up, find a tree and then afix your rope to the tree. Then go to bed. The BWCAW should have cables at all the campsites to help minimize the impact of 100s of people tromping through the woods trying to find a bear bag tree.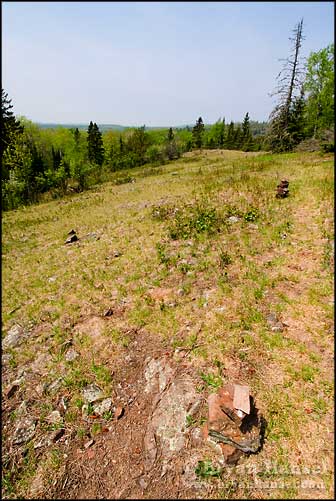 Wooden signs are only one of the ways that the Superior Hiking Trail is marked. On the open sections, like this short bald just south on the trail from the Camp 20 road, the trail is marked with rock cairns. Rock carins are simply piles of rocks that point out the path to follow when there are no trees to mark with the trail signs. There are four carins on this section.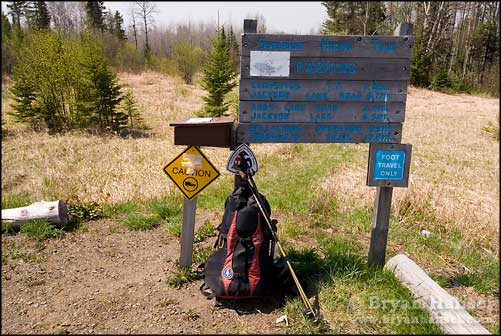 And, of course, the ultimate sign on the Superior Hiking Trail. These signs are at the road crossings. This sign is represents the northern terminus of the trail. Just a short distance from this sign is the Eastern terminus of the border trail. Potential SHT thru-hikers take note: You should plan on doing the Border Trail with your thru-hike.