Tettegouche State Park
I went paddling at Tettegouche State Park today. I had a perfectly calm water day with a slight breeze. In the morning, there were patches of skim ice that I had to break through here and there. I paddled very leisurely to the sea caves about three miles of shoreline away from the beach and put-in. Then, I shot straight back, which made for a 5 mile paddle. I took an hour from lunch and messed around a bit. I got on the water at ten and off the water at two. This is a very nice paddle. It will be part of a spring kayak training course that I'm guiding at Lutsen Resort.
BTW, I'm doing waterfall photography workshops for Lutsen Resort until mid-May. Last weekend, I ran two.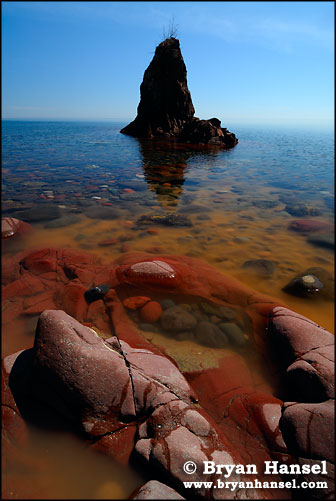 This was a very nice landing. And the small blade of an island was very picturesque. This would be a great sunrise location, and note that the rock in the foreground would normally be underwater!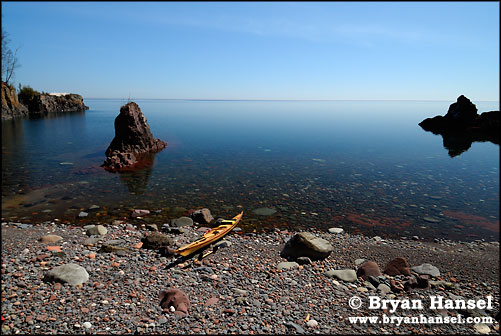 This is the same beach as in the previous picture. It's a very nice place to stop for lunch. It's probably private property, but there were no houses above it — only the highway, so it might be public.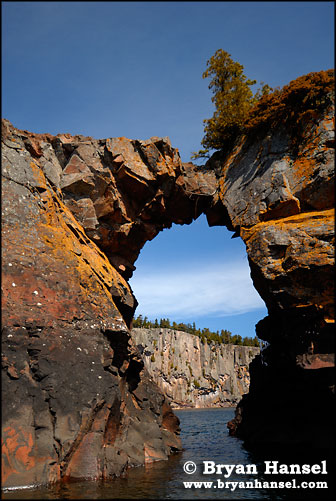 Tettegouche's sea arch. The rock connecting the two pieces looks like it's about to fall down. Don't know how many more years we'll have it. In the background in Shovel Point.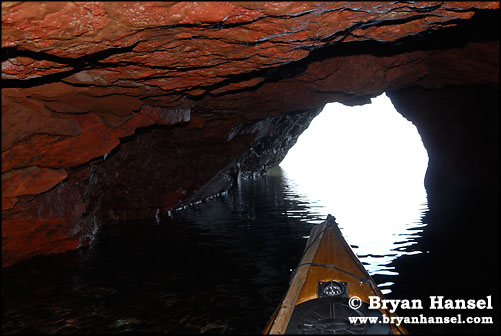 This is one of the two larger caves. It is between Shovel Point and the beach picture I posted above. About two and a half shore miles from the put-in.