Ring Around the Sun
It's blog action day today. Every blogger will post about the environment in their own way and relating to their own topic. Our aim is to get everyone talking towards a better future.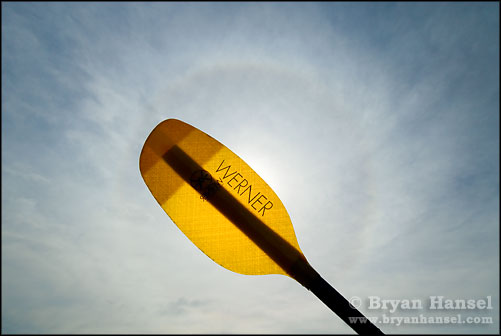 I used the kayak paddle to block out the sun, so I could capture the 22º circular halo(opens in a new window) around the sun. The picture has been flipped so the logo can be read correctly.
A ring around the sun in these parts of the woods can mean a coming storm, especially this time of the year. I took this picture yesterday while on a 13 mile kayaking trip with the half-way point at Sugarloaf Cove. Today, is a small craft advisory with strong winds and approaching bad weather. Right now as I write this, I can see the edge of the storm. The clouds are starting to block out the sun and consume the blue sky. The lake is full of three to five foot waves and white caps. The trees are shaking. The storm is coming.
I can see the edge of many storms as far as the environment is concerned. Lake Superior is warming up. It's warmed over 5 degrees in the last 30 years. The climate is changing. In Lake Michigan, companies are now being allowed to dump more pollutants into the lake. More invading species are coming to all the Great Lakes, and the world could be at a tipping point of no-return is the pole or Greenland melts.
Yesterday, sitting at Sugarloaf Cove, I looked up at the yellow fall forest and took in the beauty of the scene. About 30 years ago, when Superior was 5 degrees cooler, Sugarloaf served as the headquarters for Consolidated Paper. The forest that is there now was nothing but a muddy denuded lot used for storing piles of logs before they were hauled off across the lake. After Consolidated left, the DNR got it into their mind to build a safe harbor at the Cove, but forward thinking environmentally sound people got together and had the foresight to stop that kind of "progress" and they saved the Cove. Now instead of a gas stinky marina being there, there is a quiet forest to enjoy and a peaceful beach that is perfect for human powered craft to land.
It's not too late to stop this coming storm. If we act now, stop the right from monkey wrenching forward progress, we can keep our earth relatively the same, and with action we can stop the change before the point-of-no-return. I just hope that the warning signs will be noticed, like I noticed this halo yesterday.