Dreaming of Glacier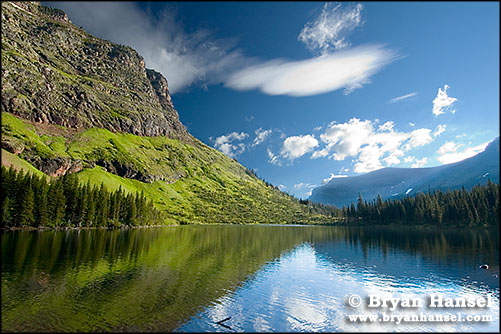 Below is the picture that I started with. I then developed (convert from RAW) it in two different ways: 1. For the lake and the mountain side, and 2. To try and darken the sky and recover some of the details in the clouds that was lost while trying to balance the exposure in the field.
I then used a layer mask to mask the sky into the foreground (I'll refine this over the next couple of days when I feel like I have the time for the detail work). After that I decided that the mountian in the haze needed be darker, so I burned that in on a third layer. I wanted to increase the saturation of the colors, so I converted to LAB color space and adjusted Levels until I was happy with the green color.
I wish that I had a little extra detail in the clouds on the right, but it just isn't there in the RAW file. Still, I think I managed to save a picture that would have been lost had I shot jpeg.