Ice Pano – And Bro
I don't know if I've ever mentioned my brother's website on this blog. But, he's helped me out with a couple of projects that I've been working on and you can see one of the illustrations that he's done on his blog right now. He's a professional web/graphic designer working for a Japanese animation selling company in Iowa. Check out his site. There are a couple of bargains on there for original oil paintings.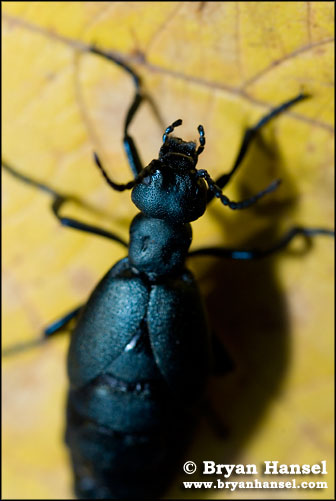 Any idea on what kind of bug this is?
And now something completely different: Ice in the Northland. It's here. Winter is upon us. Here's a quick pano I squeezed off the other day. Click on it to see the bigger version. It's about 7 or 8 shots. I'm trying a new pano building program and I need to use it a little more, but I can definitely see blending lines. I still haven't found anything that I like as much as I like the free Hugins program. Nothing else seems to do as nice a job. Boy, I wish I had a Nikon 28 f/3.5 PC lens, a Kirk Long Rail Plate, and a Kirk L-Bracket for a D200 body only. That'd be one heck of a pano making machine, and it'd make panos so nicely that hardly any work would need to be done to make them fit.

Click on this little thumb to see the big image.