Cold Kayaking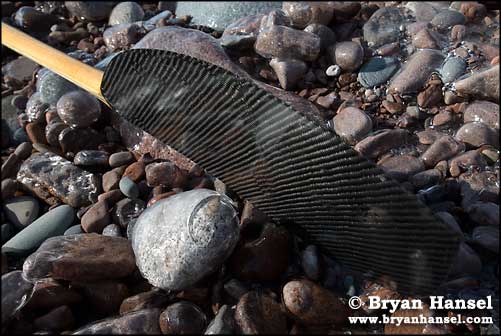 Look at the ice. This is my new homemade kayak paddle. It turned out pretty nicely. I spent about $30 on it. So, I saved around $250 compared to a store bought cedar/carbon paddle. Not bad.
Went out paddling toady in the 20 degree weather. After my three hours out on the water, my deck and everything on it was frozen down in a thin coat of ice. My sprayskirt was frozen and anywhere that water splashed on my drysuit was frozen. I actually stayed pretty warm thanks to my drysuit, a Brook baselayer, a fleece vest, and a base layer that Tom Brain from Jet Clothing sent to me to test a couple of years ago. Thanks Tom.
One of the nice things about winter paddling is that you don't have to get your feet wet. Get into your kayak just above the ice and push. When you hit the ice, you're off like a bobsled in the Olympics. Coming back is just as fun. Ram yourself up onto the shore and get out without getting your feet wet. Good thing, I don't mind scratching my kayak.