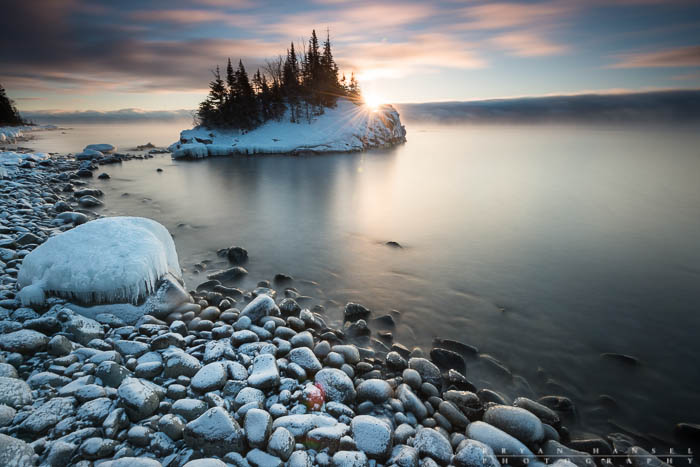 Starburst at The Rock
The sunrises of The Rock in Hovland and Lake Superior in winter. Minnesota.
On this morning I went up to Hovland to take a picture of the sunrising over Lake Superior and rising over an island that I like to call The Rock. It's similar in shape to The Tombolo and Hollow Rock, but I think it feels slightly stronger — it's a bit bigger taller and has more trees than the other two. The shoreline at the rock is also a bit different. It consists of rounded rocks that are uniform in shape and size. When a little ice and snow coats the tops of the rocks, they pop and make a great foreground.
It was an interesting morning. At my house, it was -15°F, in the parking lot for The Rock, it was -8°F, but I swear it was around 10°F where I was standing next to Lake Superior. If was really warm, but got colder when the sun broke the cloud line and began to stir up wind. I got to sunrise early today by about 45 minutes and the sun took another 30 minutes before it broke the lake effect cloud line. It was worth the wait to get this starburst!
Product Description
Learn more about the different products .
Notes:
The logo does not appear on the print.
Some images may print slightly smaller than the ordered sized based on cropping or camera format.
Additional Information
| | |
| --- | --- |
| Media | Standard Prints, Fuji Pearl Competition Prints, Metal Prints, Giclée Canvas Gallery Wraps |
| Print Size | 8×12, 10×15, 12×18, 16×24, 20×30, 24×36, 30×45 |