Many of the participants that come to my photography workshops and people who enjoy my work ask me what kind of gear I use. While I believe that equipment matters in photography (except when it doesn't), I also think that you shouldn't get hung up on worrying too much about gear, especially if the gear you have accomplishes what you want it to do. My suggestion is to only buy new gear when your current gear falls short of being able to deliver your vision. Through experience I've found the following equipment meets my needs.
Photography Equipment Kit
Cameras
Lenses
Filters

I use and recommend Singh-Ray filters.
Singh-Ray Daryl Benson Reverse Neutral Density Graduated Filters – 3-stop and 2-stop, 4- by 6-inch size – The 3-stop version is the filter that I use 90+% of the time for my seascape photography.
Singh-Ray Galen Rowell Soft Graduated Neutral Density Filters – 2-stop and 3-stop, 4- by 6-inch size
Singh-Ray Mor-Slo Solid Neutral Density Filters, 5-stop and 10-stop, 4- by 4-inch size
Singh-Ray George Lepp 3-­stop Solid Neutral Density Filter, 4- by 6-inch size
Singh-Ray Thin LB Neutral Polarizer, 77mm
Formatt Hitech 4- by 6-inch filter holder with both 77mm wide angle and standard mounts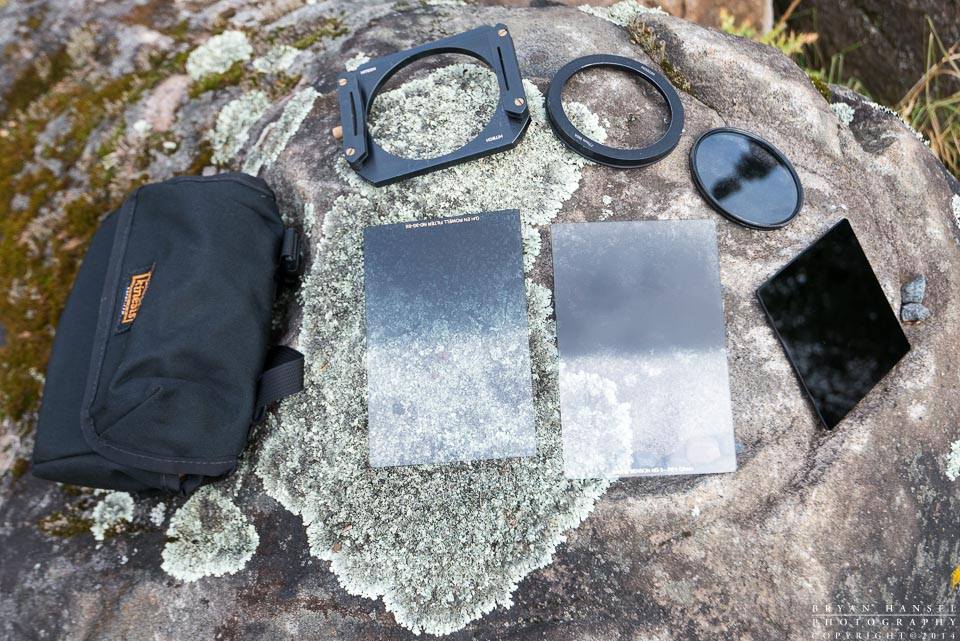 These are my most used filters. Starting from left and going clockwise:
Singh-RayThin LB Neutral Polarizer
Singh-Ray Mor-Slo Solid ND 10-stop
Singh-Ray Daryl Benson Reverse 3-stop Neutral Density Graduated Filter
Singh-Ray Galen Rowell 3-stop soft Graduated Neutral Density Filters
Tripods
Gitzo 3542XLS legs – Tall, solid and light! Great primary set of legs.
Gitzo 1340 legs – my old set still usable but I kinked a leg so I can't close it.
Manfrotto 3001BPRO – I use this for Macro work. It gets low to the ground and I can easy put the camera exactly where it needs to go.
SLIK Sprint Pro GM – Lightweight tripod for kayak and canoe trips.
Kirk BH-1 or BH-3 ball head – Love these ball heads. They last forever.
Flashpoint F-2 ball head – A light ball head that works okay. I use it on the SLIK tripod. Not for daily use.